First Lady Michelle Obama said one of her "proudest" moments was watching her husband land in their garden on a private plane and stroll into the White House.
"Watching my husband walk off Marine One and into the Oval Office," she said. "It's mm, mm, mm! And you know, he has that walk, right?"
Her interviewer, Oprah Winfrey, agreed he "had the swag" and asked, did the president "get swaggier"?
"He has always been very swagalicious," Ms Obama said, laughing.
The interview was a highlight of the White House's first ever United State of Women summit, drawing a crowd of 5,000 people and featuring hundreds of speakers including the president, vice president Joe Biden, Gloria Steinem and president of Planned Parenthood, Cecile Richards.
In a frank and humourous interview with chat show host Ms Winfrey about family life, deflecting negative messages on social media and being a mentor to young people, the First Lady also talked about how she and her husband always wanted to be "authentic" during the presidency.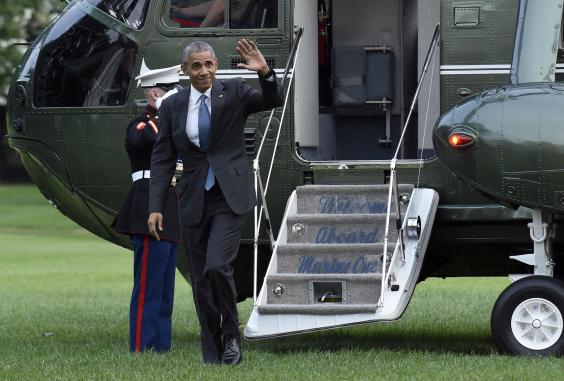 "I told people from the very start, Barack Obama is exactly who he says he is.
"He's an authentic man as he came in and he's going to leave as the same person," she said.
Mr Obama gave a speech at the summit, too, where he said: "I might be a bit greyer now, but this is what a feminist looks like."
When her husband told her he wanted to run for president, she admitted that her first reaction was: "Are you crazy? Just chill."
But Ms Obama said she was also proud of using her platform to support military spouses and their families, improve healthy eating in schools and launch her charity, Let Girls Learn, which aims to send six million girls from around the world to school. Companies including AOL, Oracle and PayPal have announced they will donate to the cause.
After eight years of living at the White House in Washington DC, Ms Obama said she was looking forward to "slowly going back to normal life". The family have already picked a new house, two miles from the government building.
"I want to walk down the street, I want to sit in a yard that is not a national park. I want to go to [chain store] Target, again. I've heard so many things have changed," she joked. "I tell my friends they will have to give me re-entry training. What do you do now at [pharmacy] CVS, how do you check out? I've been living in a cave."
Ms Winfrey asked about what men could do in order to drive change towards gender equality. Ms Obama had a simple message.
"Be better," she replied to loud cheers and applause. "At everything."
"Be better fathers. Love your daughters and provide a solid example of what it means to be a good man in the world.
"Be engaged. Don't think that just going to work and coming home makes you a man.
"Be a better employer. Do you see only a bunch of men around you at the golf course, and you're okay with that? Be better.
"Just be better. I could go on and on, but I won't. You got the point?"