A teenager has been arrested after corrosive substances were thrown in people's faces in five attacks across north-east London.
Two men on a moped carried out the attacks over 90 minutes in Hackney, Stoke Newington and Islington on Thursday night.
In the attack in Cazenove Road, Stoke Newington, a man suffered "life-changing" facial injuries
One of the victims suffered "life-changing injuries".
The assaults happened amid increasing concern about the sharp rise in acid attacks in London.
Since 2010, there have been more than 1,800 reports of attacks involving corrosive fluids in the capital. Last year, it was used in 458 crimes, compared to 261 in 2015, according to Met Police figures.
Met Commissioner Cressida Dick said the growing trend of victims being doused with corrosive liquids was concerning.
Ms Dick told LBC Thursday night's attacks were "completely barbaric".
"The acid can cause horrendous injuries," she said.
"The ones last night involved a series of robberies we believe are linked – I am glad to see we have arrested somebody.
"I don't want people to think this is happening all over London all the time, it is really not, but we are concerned because the numbers appear to be going up.
"We will arrest people, we will enforce the law as we can, and we are working very closely with the Home Office to try to see if there is any changes in the law required."
Police said the latest attacks were linked and were questioning the teenager at an east London police station on suspicion of robbery and causing grievous bodily harm.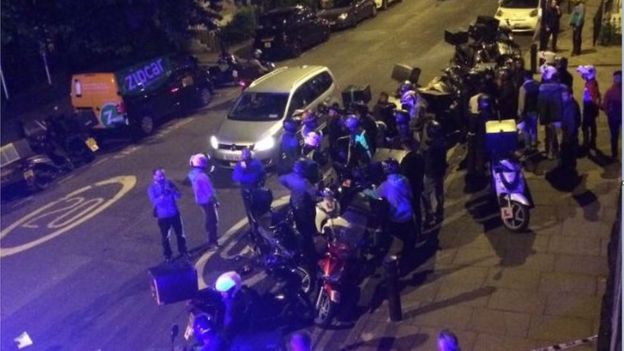 The attacks began at 22:25 BST on Thursday in Hackney Road.
A 32-year-old man on a moped was left with facial injuries after another moped, with two male riders, pulled up alongside him and threw a corrosive substance in his face.
One of the men stole his moped and the other drove away on the vehicle they arrived on.
The Met said it was awaiting an update on the extent of the victim's injuries. Inquiries are ongoing.
Image Credit: BBC
Source: BBC