Christmas is almost here, and you sure are ready for the parties, somewhat. Why did we say somewhat, when you have already put together the ensemble you plan to wear? Think about it, what about the Christmas party makeup? Have you thought what look to wear that would match any and every ensemble- ethnic or western? Let's help you with ten beautiful Christmas party makeup ideas, to grab eyeballs and make heads turn. Even at midnight mass in church, and with the Christmas party makeup you wouldn't have the old aunties and the priest raising eyebrows!
While we jingle all the way, with cakes and red wine, let's celebrate our look as the year draws to a close.
1. Bold Lips And Smokey Eyes
For the party season so strong and while the cold winds blow all night long, you have to turn the radar up on the heat. Do this with smokey eyes and bold lips. We've already in many posts told you how to do the smokey eyes, and for the lips, you have to choose dark red wines, plums and magentas; keeping it matte and balancing the look.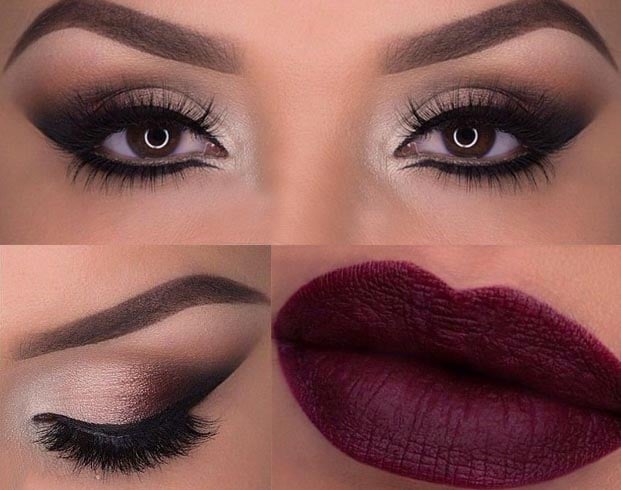 2. Golden Touches To A White Christmas
We have spoken about golden eyes in many of our festive posts, and since in India we are a secular lot celebrating every festival, let's shimmer and shine with gold touches on our eyes and brown hues too. Perfect christmas eye makeup idea we say!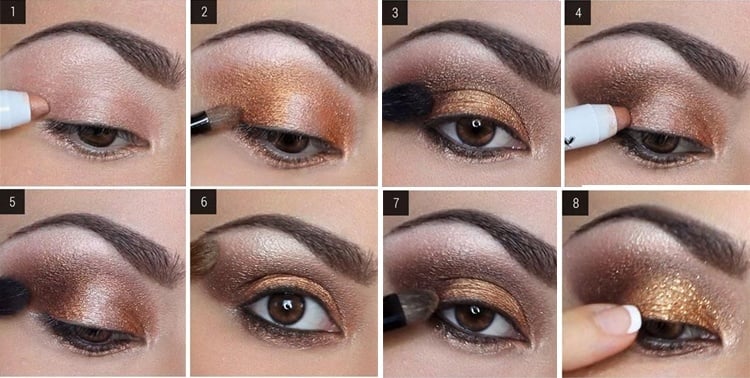 3. Keeping It Au Pinkish And Peach
Let's focus on the cheekbones this time, with bold matte lips. What you should do is to contour the cheeks above the bone and below the eyes with a blusher in pink, and leave it to that. Focus more on the peach touches to highlight the forehead, the chin and the jawline, with matte lips in dark shades to flaunt, and neutral eye do!
4. Heavy Eye Lining And Nude Lips
For the girl who loves nothing more than dark kohl to flaunt, not even lipsticks so bright, we have the heavy eyeliner look with nude lips as a suggestion to dress up in. perfect for the midnight mass and the Sunday Christmas lunch gathering!
5. Bohemian Christmassy Look
Soft, supple and contoured cheeks in pink and nude blushes, with neutral shaded eyes and nude lips, once again rules the roost for a daytime Christmas party to enjoy! Go right ahead and get all boho chic with the gal pals in this Christmas makeup idea!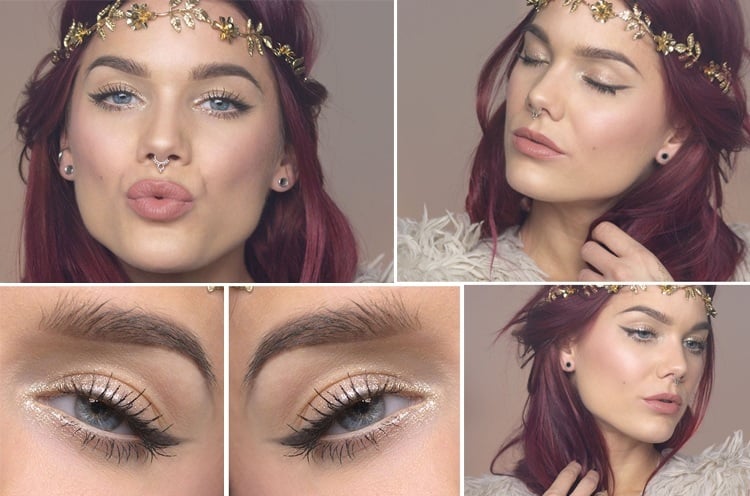 6. The Great Gatsby Makeup Look
Did you read our post on the GREAT GATSBY makeup tutorial? If you haven't, it is now time to scroll the archives and think about using this elegant and very vintage look to flaunt with those cocktail dresses. Dark lips and smokey eyes for sure, twig the lashes with heavy duty mascara.
7. Blue Lash Lines
How about beating the holiday blues with blues! And by that we mean, instead of using the same old black, browns and copper lash colours, why don't we play with a little teal and blue to make the look sexy? Lash lines in blue makes the eyes gorgeous and bigger too!
8. Smokey Green Eyes
Since most of us Indian girls have brown eyes to very black pairs to flaunt, let's burn the others green with envy with smokey green eye makeup!
9. The Intense Cat Eye
We have spoken about the various ways you could use liquid, gel and pencil eyeliners to create the intense cat eyed look, now's your chance to enhance it further with touches of silver and pinks!
10. Bold Twiggy Eyes And Brown Lips
We have heard of the twiggy eyes with bold nude lips or red, but this time we shall play the look with touches of brown. Bring in the festive cheer with a vintage 70s touch and make a statement with bouffant lose hair! Adorable Christmas Makeup idea this was, wasn't it!