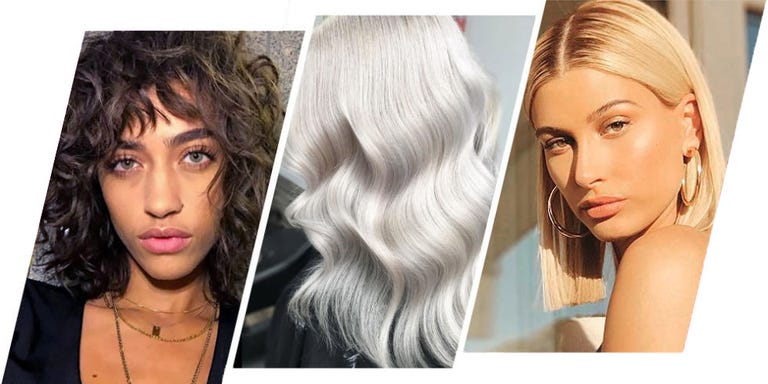 To help you stay ahead of the curve with your hair, we got the lowdown on the exact haircuts and colours that are pretty much guaranteed to infiltrate your Instagram feeds in a few months, ahead.
Okay, maybe not as long as Beyonce's, since ultra-long, ankle-length hair had its one-month spotlight moment earlier this year, but the long hair you had as a kid is coming back, so get ready to stock up on deep-conditioning treatments.
2
OUT: Tiger-Eye Hair Color
Inspired by the tiger-eye stone, with its silky mix of golden and brown stripes, this hair trend involves painting caramel highlights over a warm or dark chocolate base. And though it's a universally flattering look—and mesmerising to look at—2018's colour trends are skewing more toward the monochromatic, like…
For natural blondes and bleach blondes alike, the universe brings you the the easiest shade to wear in the blonde family: icy white-blonde, which not only looks gorgeous on its own, but also with pastel undertones, like blue or lavender.
4
OUT: The Super-Sleek Middle Part
In case you've missed it, the 90s are back, starting with the same stick-straight, flat-ironed hair you wore to school. But it's time for your inner 13-year-old to head home, now, because the sleek middle part is losing its edge to…
Behold, Yara Shahidi's slick, wet-look curls are a thing of 2018 dreams (unless, of course, you're a middle part; then sorry for your extinction). To get the look, dip a fine-tooth comb into pomade—yes, pomade; not gel or hairspray or cream—and, section by section, paint it over your hair until it lays flat.
6
OUT: Platinum-Blonde Buzz Cuts
Surprisingly, the most "daring" of haircuts—the cropped, textured buzz—was also the most popular of 2017, with Zoë Kravitz, Kristen Stewart, Katy Perry and Cara Delevingne going in for the crop. You know why? Because it looks completely badass. But know, this will be stepping aside to make room for…
Easy transition. Just grow out your buzzcut and dye it literally any colour (we suggest icy blonde, à la Cara Delevingne, which will also be a big colour trend for next year). Ask your stylist for short, choppy layers with face-framing pieces to add some texture to the cropped look.
As with most trends of 2017, history repeated itself, and the '70s shag (and, coincidentally, Taylor Swift's hair) was born anew. And as much as we love the super-messy, super-feathered look, the razors are going back into retirement in favour of…
9
IN: Curls on Curls on Curls
CURLS! And the first rule of curls is to never, ever, ever touch them with a razor. Whether you've got kinky-coily curls, or naturally full, fuzzy ringlets, or you spend an hour every morning twisting your straight hair around a tiny curling iron, you know that curls are here. The more definition and volume, the better, so let them run free.