It's not been a feature on Apple iPhone's for very long, in fact it was only introduced during the iPhone 6S launch two years ago, but now the 3D touch multitasking tool is to go from iOS11.
Basically, the shortcut enables you quick access to the multitasking screen and makes switching between apps nice and simple.
It all bases itself around the hardness of your touch, by pressing deeper on the edge of the screen, and then moving your finger gently to the right, you can switch apps.
The point is to save you time and effort. It's a quicker way to switch than double-tapping the 'home' button and toggling between open apps.
Still unsure what we mean? Here's it all explained…
Any questions of a bug eradicating the feature were quashed when engineer Bryan Irace uploaded a bug report to Twitter.
Apple responded: "Please know that this feature was intentionally removed."
Many on social media were not happy with the decision to take the feature off, without any warning also.
One Twitter user wrote: "No more 3D touch multitasking in iOS11. It was so useful and so convenient."
Another added: "What? Apple removed 3D touch for multitasking in iOS11? Am I the only one was using it for multitasking?"
While a third said that if you do use the multitasking feature it was 'time to get mad'.
The new operating system has received much praise from Apple users following the update.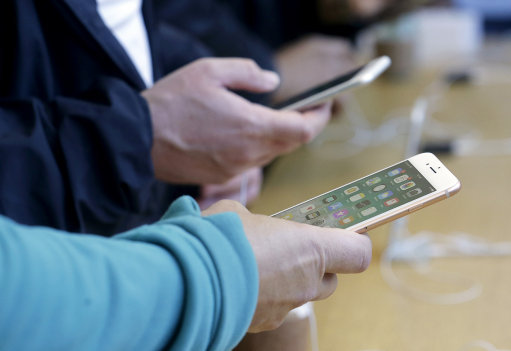 Credit: PA
A new control centre has allowed users to position their most frequently used settings; and a new notifications tab and 'live photos' also taking up less space have also pleased fans.
Another addition also means that, with the push of a few buttons, you can record whatever pops up on your screen, whether that be Snapchat, Instagram, or video calls.
What's more, the person on the other end is not aware of these 'live screenshots' being taken – something that is of concern to many, according to The Independent.
The iOS11 feature is available to download now, and will automatically be installed across the latest smartphones which were unveiled over a week ago.
via GIPHY
The iPhone 8 is already available in stores, with the iPhone 8+ and iPhone X due for release in October and November respectively.
Featured Image Credit: PA