There's a general rule when experiencing nature: enjoy it, cherish it, and leave no trace so that others can have the same epic experience that you did.
Clearly that ideology was lost of a group of beachgoers in Mojácar, southern Spain, as a young female dolphin was separated from its mother and became stranded in shallow waters. It appears that people thought it would be a good idea to take the creature out of its natural habitat, where it can't survive for long, so that they could take pictures of it.
#memories
When news of the discovery reached animal experts, they raced to the scene, however the dolphin was already dead. The man pictured in the blue-green board shorts is a member of Equinac, a group which protects marine wildlife in the area. He found the dolphin had been returned to the ocean after it had died.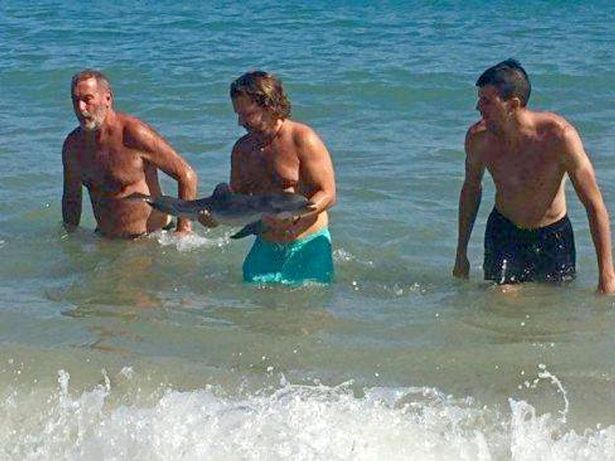 Credit: SOLARPIX
The group has released a statement on its Facebook page, with the English translation roughly saying: "Cetaceans are animals, very susceptible to stress. Manipulating them, to take pictures and touch them, causes them a very strong shock that accelerates a failure, to a large extent.
"112 (Spanish emergency services) should have been notified. You should not to rush to take pictures of a frightened and weak dolphin cub. People have been doing this for many years and it happens in 100 percent of beaches.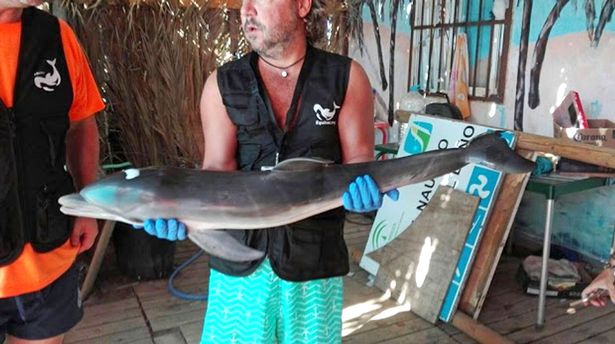 Credit: SOLARPIX
"Finally, let us remind everyone that these animals are highly protected; to disturb them, to harm them, to manipulate them is prohibited by law, and we always ask for respect and consideration."
Apparently, children were seen accidentally covering the dolphin's blowhole, without knowing that it was restricting its ability to breathe.
People on social media have branded those who took the dolphin out of the water as 'selfish bastards', 'sick fucks' and 'irrational animals'.
Otra vez mataron a un delfín en San Bernardo. Sacaron al animal del mar para sacarse fotos. pic.twitter.com/4qzYnWvKiH

— C5N (@C5N) January 23, 2017
There was a similar reaction earlier this year when a young dolphin was also dragged from the ocean in Argentina and used for photos. A witness told the C5N news outlet: "It was small and it came close to the shore. They could have put it back in the sea-in fact, it was breathing, but they all started taking photos and touching it."
It's a sad state of affairs when people are more focused on getting a picture than for an animal's welfare.
Take note: marine animals are supposed to be left in the ocean.
Featured Image Credit: SOLARPIX