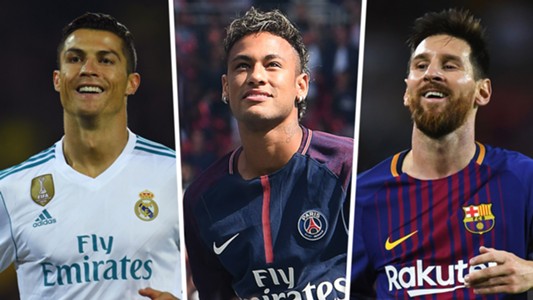 CRISTIANO RONALDO has won the Ballon d'Or 2017, but who joins the Real Madrid ace in the top 20?
France Football have revealed the results of the Ballon d'Or 2017, with a group of 173 journalists voting for the best player in Europe.
Portugal legend Ronaldo has been crowned the 2017 winner ahead of Lionel Messi and Neymar, picking up his fifth gong.
Tottenham star Harry Kane was voted in 10th spot, behind Bayern Munich striker Robrt Lewandowski and Chelsea midfielder N'Golo Kante, while Juventus stopper Gianluigi Buffon was ranked 4th in the world.
BALLON D'OR TOP 20
---
| Position | Player | Club |
| --- | --- | --- |
| 1 | Cristiano Ronaldo | Real Madrid |
| 2 | Lionel Messi | Barcelona |
| 3 | Neymar | Paris Saint-Germain |
| 4 | Gianluigi Buffon | Juventus |
| 5 | Luka Modric | Real Madrid |
| 6 | Sergio Ramos | Real Madrid |
| 7 | Kylian Mbappe | Paris Saint-Germain |
| 8 | N'Golo Kante | Chelsea |
| 9 | Robert Lewandowski | Bayern Munich |
| 10 | Harry Kane | Tottenham |
| 11 | Edinson Cavani | Paris Saint-Germain |
| 12 | Isco | Real Madrid |
| 13 | Luis Suarez | Barcelona |
| 14 | Kevin De Bruyne | Man City |
| 15 | Paulo Dybala | Juventus |
| 16 | Marcelo | Real Madrid |
| 17 | Toni Kroos | Real Madrid |
| 18 | Antoine Griezmann | Atletico Madrid |
| 19 | Eden Hazard | Chelsea |
| 20 | David De Gea | Man Utd |