Live music is due to be performed on 40 bridges around the UK for the second annual BBC Music Day.
Choristers Only Men Aloud launched events at 06:50, singing with Amy Wadge – who was on top of the Severn Bridge.
Jack Savoretti will perform on London's Tower Bridge, while the Tees Transporter Bridge, Middlesbrough will come alive with music through the day.
Music Day culminates with a concert at Cornwall's Eden Project, starring Duran Duran, Nile Rodgers and Laura Mvula.
Rodgers, who co-founded Chic and has worked with Prince and David Bowie, is an ambassador for BBC Music Day, and said music had the power to change lives.
"I've had some really rough years as of late," said the star, who is currently in remission from cancer, "but the music keeps us going."
"When I have my worst times, I just pick up my guitar and I start practicing in my room. And people wonder, 'well, do those songs become hits?'
"And I go, 'I don't care, I just do it because it makes me feel good. I love to play.'"
Billed as a UK-wide celebration of music, there will be hundreds of events and special concerts around the country.
In Bristol, a children's "vegetable orchestra" will be led by Shaun The Sheep at Colston Hall; while the Ulster Orchestra will perform in the grounds of the Stormont Parliament Buildings in Belfast.
Shameless actress Maxine Peake will play at Sheffield's Yellow Arch Studios with her experimental electronic group Eccentronic Research Council; while rock band Travis will play a one-off, free show with the BBC Scottish Symphony Orchestra in Glasgow's Barrowlands venue.
Pop star Will Young will serenade workers at Bristol's Pukka Herbs tea factory, marking the 75th anniversary of Workers Playtime, a Home Service programme which was started to boost morale among workers during the Second World War.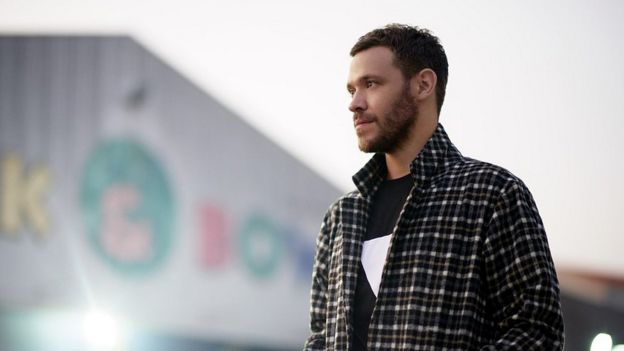 A UK-wide bell-ringing event is also planned for 19:00 BST, with more than 180 church towers ringing simultaneously, including Bristol and Manchester cathedral and smaller parish churches such as Saint Francis Xavier's in Liverpool and St Mary's in Turville, Buckinghamshire.
Meanwhile, CBBC will premiere a new version of the Danger Mouse cartoon's theme tune, sung by young fans who submitted videos to the channel.
Other bridge-based activities included Rebecca Newman performing Bridge over Troubled Waters on a temporary crossing over the River Wharfe in Yorkshire. The footbridge was constructed after Tadcaster Bridge crumbled during floods last Christmas.
A Borders piper and a Northumbrian piper played on opposite sides of the Union Chain Bridge, which unites England and Scotland over the River Tweed, before meeting in the middle.
And Jack Savoretti battled vertigo on London's Tower Bridge – playing his set on a glass-bottomed walkway 42 metres above the River Thames.
"I was clenching my eyes together," he admitted after the performance.
Full details of events around the UK can be found on the BBC Music Day website.
Duran Duran's concert will be broadcast live on Radio 2, while highlights will be shown on BBC One on Sunday, 5 June.