Some players simply receive too much hype when they explode onto the scene and can't meet their potential. Here are ten of the best.
Like in any sport, one of the most fun aspects of football is trying to identify the best prospects for future stardom. Players who went on to greatness like Cristiano Ronaldo, David Beckham and Wayne Rooney were all pegged to pull off tremendous feats before they even made their way into their respective senior sides.
What happens when the predictions go wrong, though? We've seen time after time that some young players simply get too much hype around them and fail to live up to expectations. Whether it's down to misuse by their club, or a lack of application on the behalf of the player, here are ten of the most overhyped players of all time.
---
#1 – Ravel Morrison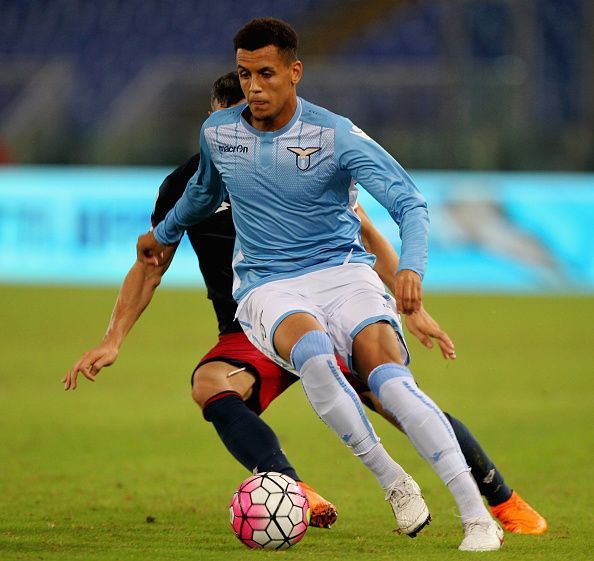 Produced by the same Manchester United youth side that contained Paul Pogba, Morrison was said by Sir Alex Ferguson to be one of the most talented players he'd ever seen – far better than the future holder of the world transfer record in fact. But despite flashes of brilliance, Morrison's career seems to have already flamed out at the age of just 24.
Personal issues – largely the fact that he fell in with the wrong crowd during his time in Manchester – drove him away from United and to West Ham, but despite some great moments at Upton Park he simply couldn't settle, being accused of then-Hammers boss Sam Allardyce of having serious issues with his commitment and discipline.
Since then he's floated around from club to club, never really settling nor threatening to live up to the massive potential he showed as a youngster at Old Trafford. Had he met the expectations, he could well have been looking at leading England into the 2018 World Cup and starring for United right now. As it is, he remains all hype and no substance, a casualty of his own questionable lifestyle.
#2 – Denilson
Take a look at the historical progression of the world transfer fee record, and you won't find many names who didn't achieve massively in the world game – from Figo to Zidane to Ronaldo. One name, unfortunately, stands out for all the wrong reasons, though, and that's Brazilian winger Denilson, who moved to Real Betis in 1998 for a then-world record fee of £21.5m.
When he emerged on the scene for Sao Paulo in the mid-1990's, Denilson looked like the latest in a long line of outstanding Brazilian talent. He showed remarkable dribbling skills and used all of the popular flicks and feints of the time, including the step-over technique famously used later on by Cristiano Ronaldo. The youngster starred for Brazil in the 1997 Copa America and then in 1998's Le Tournoi – a mini-tournament designed as a warm-up for the World Cup.
But when he arrived at Betis he simply couldn't find any consistency – a mixture of feeling the weight of the transfer fee on his shoulders, and the struggle with the step up in competition from Brazilian football to the high-quality of La Liga. He floated in and out of Betis' first team and saw them relegated in his second season. It was a disastrous transfer by anyone's standards and Denilson ended up moving across various clubs before retiring in 2010, never living up to the early hype that surrounded him.
#3 – Giovani Dos Santos
Currently playing in Major League Soccer with LA Galaxy, Mexican forward Giovani Dos Santos has seen a bit of a career resurgence recently and has been performing well in America. Considering the lofty expectations on him as a teenager, however, you'd have to say he's probably one of the most overhyped talents in football history.
Giovani broke through at Barcelona back in the 2007/08 season, where he was identified as one of the greatest prospects in world football – even better than his teammate Lionel Messi, according to some pundits. Indeed, Dos Santos made 37 appearances that season. It was curious, then, when Pep Guardiola sold him to Tottenham Hotspur for just £5m, but the reasons soon became clear.
Dos Santos had his commitment questioned by then-Spurs boss Harry Redknapp, and the word was that he spent more time partying and drinking off the pitch than he did training for football matches. He never broke into the first team at Spurs and ended up on a string of loan moves before a largely unsuccessful stint in La Liga with Mallorca and Villarreal. His form has improved since his move to the USA, but he's never come close to living up to that early Barcelona hype.
#4 – Micah Richards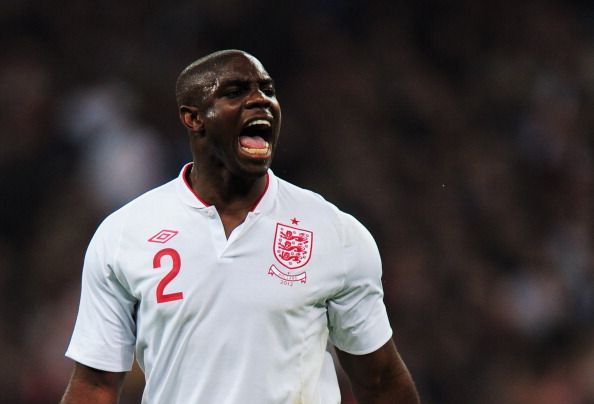 When longtime England right-back Gary Neville began to slow down just after the 2006 World Cup, it seemed that fans of the Three Lions didn't have a lot to worry about, as a new, young superstar was already emerging from the blue half of Manchester to take his place. His name was Micah Richards, and when he made his England debut in November 2006 at the age of 18, he became the youngest defender to ever pull on the shirt.
Richards had in fact only played 28 professional games for Manchester City before his England debut, but he looked fantastic in most of them – a terrifying blend of pace and power on the right-hand side of the pitch along with a level of awareness that seemed to belie his young age. But really, he never progressed like he should've done despite performing relatively well for City for the following seasons – even being nominated for Player of the Year during their Premier League title-winning campaign of 2011/12.
By the following season Richards found himself forced out of the first team at City by Pablo Zabaleta, and essentially, his career as a top-flight footballer was over. From 2012/13 to the end of 2014/15 he made just 38 first-team appearances, including a fruitless loan to Fiorentina. Richards now plays in the Championship for Aston Villa and hasn't come close to living up to the hype that he came onto the scene with over a decade ago.
#5 – David Bentley
Another victim of the "new" tag, David Bentley had the misfortune to be labelled the "new David Beckham" thanks to his casual good looks, his skill from the right-hand side of midfield and his ability to shoot from long range – an ability that allowed him to score some truly spectacular goals during three seasons at Blackburn Rovers. But after a successful 2007/8 season at Ewood Park, a move to Tottenham proved to be his undoing.
Spurs paid over £15m for his services and it seemed to be a good move at first, especially when Bentley scored a great goal in his new club's legendary 4-4 draw with Arsenal in October 2008. But Bentley's form quickly faded as 2008/09 ended, and he only made a handful more appearances for Spurs before going onto a string of loan moves, first to Birmingham City, then to West Ham, Russian club FC Rostov, and finally back to Blackburn.
None of the moves could help him recover his mojo and he ended up retiring prematurely at the age of 29, stating that he'd simply fallen out of love with football. It's hard to compute exactly what went wrong with Bentley – perhaps he believed his own hype a little too much? It's safe to say, however, that he was certainly no David Beckham.
#6 – Andres D'Alessandro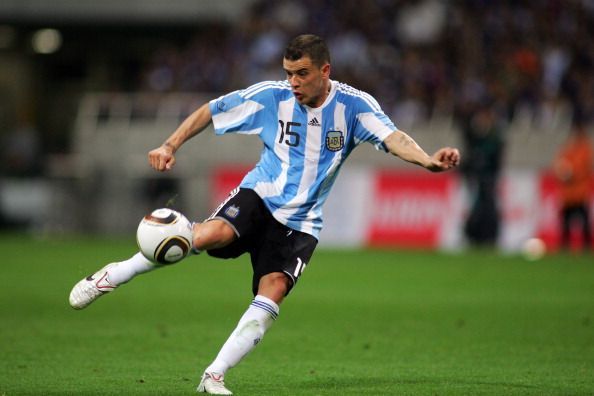 Plenty of Argentinian playmakers have been labelled as the "next Diego Maradona", and of course, excusing Lionel Messi, none of them have come close. The likes of Ariel Ortega, Juan Roman Riquelme and Pablo Aimar at least showed some fleeting glimpses and went on to fruitful careers, but Andres D'Alessandro simply couldn't cut it outside of his native South America.
D'Alessandro came through the ranks at River Plate alongside the afore-mentioned Aimar and another hyped-up star in Javier Saviola. Recognised as one of the best young playmakers in the country, the "new Maradona" hype was immediately thrust upon him and he made a move to German club Wolfsburg in 2003 for a then-club record of just over £7m. But in three seasons there he only delivered 10 goals and never came close to living up to his potential.
A weird loan move to struggling Premier League side Portsmouth didn't help him, neither did a move to La Liga with Real Zaragoza. His critics blamed his inability to actually deliver goals or assists, and also a questionable attitude, something that landed him in hot water with coaches during his time in Spain. By 2008 he'd joined Brazilian side Internacional, and while he won a handful of honours there, the "new Maradona" tag was long gone along with his hype.
#7 – Kleberson
Legendary Manchester United boss Sir Alex Ferguson didn't drop the ball often when it came to transfers, and some of his signings – such as Eric Cantona and Peter Schmeichel – went on to become club legends despite being signed for relatively small fees. He wasn't infallible, though, as was evidenced when he signed Brazilian midfielder Kleberson in the summer of 2003.
Not that you could especially blame Fergie at the time, though – Kleberson was one of the most touted midfielders in the world. He'd anchored the midfield of Brazil's 2002 World Cup winning side and had been fantastic throughout the tournament, and at just 24 United fans hoped he could be the long-term successor to Roy Keane as their midfield's "engine man".
It was a prediction that would prove painfully wrong. Kleberson was diabolical for United and only made 20 Premier League appearances over two seasons before he was unceremoniously sold to Turkish side Besiktas. Two seasons – and a row over unpaid wages – later and he was back in Brazil, where he played out the majority of the rest of his career, never coming close to the early potential he showed in the 2002 World Cup.
#8 – Bojan Krkic
Barcelona have produced plenty of world-class players in the last decade or so, and it's basically a proven fact that if you can break through into the first team at the Nou Camp, you're probably destined for a legendary career. Unfortunately, that hasn't proven to be the case for Spanish-Serbian striker Bojan Krkic, who showed such promise in his early years that he broke Lionel Messi's record of being the youngest player to appear for Barca in a league game.
In October 2007 he became Barca's youngest ever league goalscorer, and then in April 2008, he became the first player born in the 1990s to score a goal in the Champions League. It seemed that the sky was the limit for Bojan, but by 2008/09 he fell down in the pecking order and also fell out with new Barcelona boss Pep Guardiola. A move to Roma was supposed to kickstart his career, but it didn't work and he wound up on loan at Milan and Ajax to little success.
In 2014/15 he made a surprising move to Stoke City in the Premier League, but somehow he struggled to even establish himself there, and he spent the majority of last season on loan at Mainz 05 and is now on loan at Alaves. He's still just 27 years old, but it looks like his potential is long gone, and he remains one of the most overhyped players of all time.
#9 – Robinho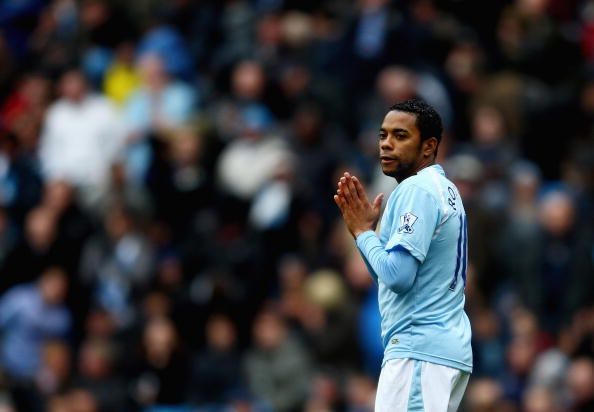 When flashy winger Robinho emerged at Brazilian club Santos in the early 2000's, he was so good that he was instantly labelled as the "new Pele", a dangerous comparison given the fate of the last Brazilian player to be given that label – winger Denilson, who had flamed out at Real Betis just a handful of years previously. But Robinho was ludicrously skilled, and surely he couldn't fail to live up to the hype, could he?
The answer turned out to be yes, he could. He signed for Real Madrid in July 2005 and was expected to become their next Galactico, but despite some flashes of brilliance, he was largely inconsistent and never really fit in at the Bernabeu. A mega-money £32.5m move to the newly minted Manchester City followed, but Robinho couldn't live up to the hype there either and was sent on loan back to Santos after just one season at Eastlands.
A move to Milan followed and Robinho performed decently, winning Serie A in 2010/11, but he never came anywhere close to fulfilling his potential. This week saw him move to Turkish side Sivasspor after a time in his native Brazil, but he's also potentially in legal trouble, as he was convicted of rape by an Italian court in November 2017. He's currently appealing the decision.
#10 – Freddy Adu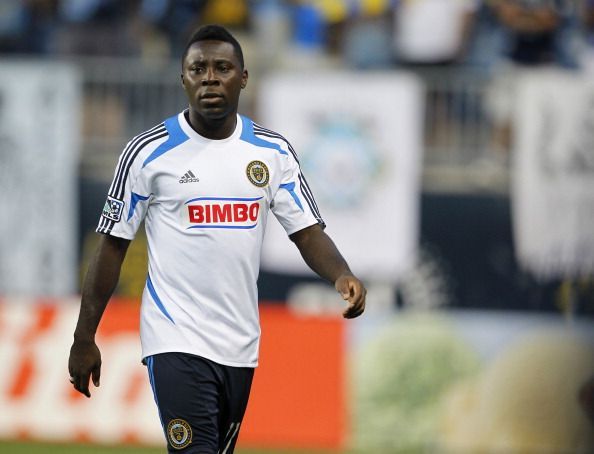 It's long been assumed that at some point in the future, the USA will produce the best football – or "soccer" – player in the world, basically due to the massive size of the country and the level of athletes they've produced in other sports. Back in 2004, it appeared that they'd unearthed a player with the potential to reach those lofty heights – forward Freddy Adu.
Adu was selected by DC United in the 2004 MLS Draft at the age of just 14, and a handful of months later he became the youngest player to ever appear in MLS and then the youngest goalscorer, too. In his first professional season, he scored five goals and assisted in three, and it seemed the world was his oyster. 2006 even saw him have trials with Manchester United. But he simply couldn't live up to the hype, with many observers claiming that he'd simply been thrown into professional senior football at too young of an age.
December 2006 saw him leave DC United for fellow MLS side Real Salt Lake, but since then he's become a total journeyman, floating through Portugal, France, Turkey, Brazil, Serbia and Finland without really ever coming close to fulfilling his early promise. He's currently not contracted with any team and at the age of 28 he goes down as perhaps the most overhyped player of all time.