On Friday August 25, it was confirmed that the fight between Conor 'Notorious' McGregor and Floyd 'Money' Mayweather will go ahead after both made the weight.
McGregor stepped on the scales at 153lbs (69kg), while Mayweather was somewhat lighter at 149.5lbs (67.8kg).
The crowd inside the T-Mobile Arena was largely in support of McGregor, with thousands of Irish fans descending on the gambling capital of the world.
It was that atmosphere that made it difficult to understand what was said between the two fighters as they went nose-to-nose.
Throughout it all, Mayweather maintained a poise about him. He didn't open his mouth and stared back at the more aggressive McGregor who shouted in his opponent's face.
"You little bitch!" McGregor shouted. "You little short-arse bitch.
"You ain't got shit on me, you little short-arse, weak-arse bitch.
"I'll kill you stone dead. Know that!
"I'm going to make you beg me… I'm going to make you beg me to follow those rules in there. Know that.
"Get your hand off me or I'll break you down right here. 149lbs? You look about 160lbs and all. You're all blown out."
After screaming in his face, he chanted: "Eire! Eire! Eire!'"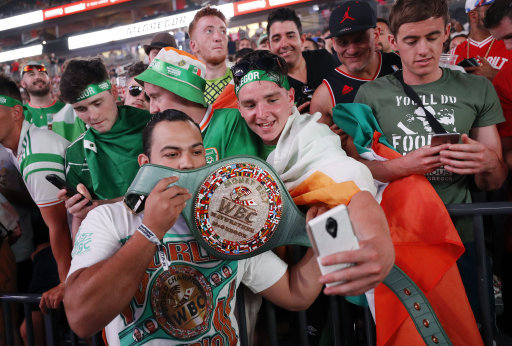 Credit: PA
Following the weigh-in, McGregor said: 153[lbs]. It's sacrifice, it's dedication and its focus. I'm in peak physical condition. I'm ready."
Conor then stated that he would be 'a lot bigger' by the time the fight comes, estimating he'll be closer to 170lbs.
He then turned patriotic, adding: "Us Irish roll in and we take whatever we want. I won't go anywhere than the centre of that ring."
Mayweather responded in his post-weigh-in interview and, despite being lighter, is also confident of victory.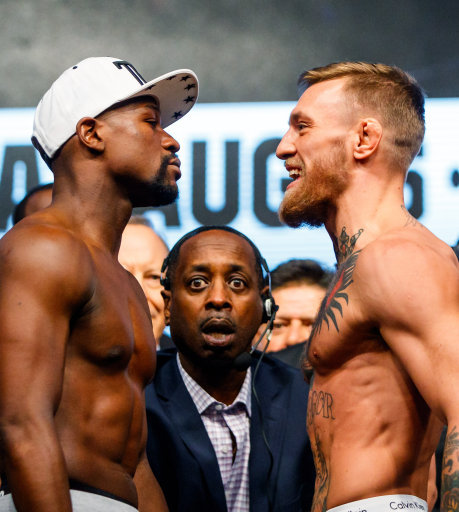 Credit: PA
He added: "I've been here before, I know what it takes to win a fight of this magnitude. Weight doesn't win fights, fighting wins fights.
"It won't go the distance, mark my words.
"I want to thank the fans, I'm not worried about the scale, or the last time. This will be Conor McGregor's last fight also.
"The fans can't fight for you. It comes down to the two competitors. The 49 times I went out there, it was one on one."
Featured Image Credit: PA