Any spin of a roulette wheel, any turn of a card in Blackjack, or holding your own with the two cards your given in poker – all as nerve wracking as the next.
But imagine having $8m riding on one of the above.
That was the case for Scott Blumstein who's future fortune rode on the turn of the last card at the World Series Of Poker (WSOP).
In a finish that saw everybody hook, Scott took the millions on Saturday night in Las Vegas.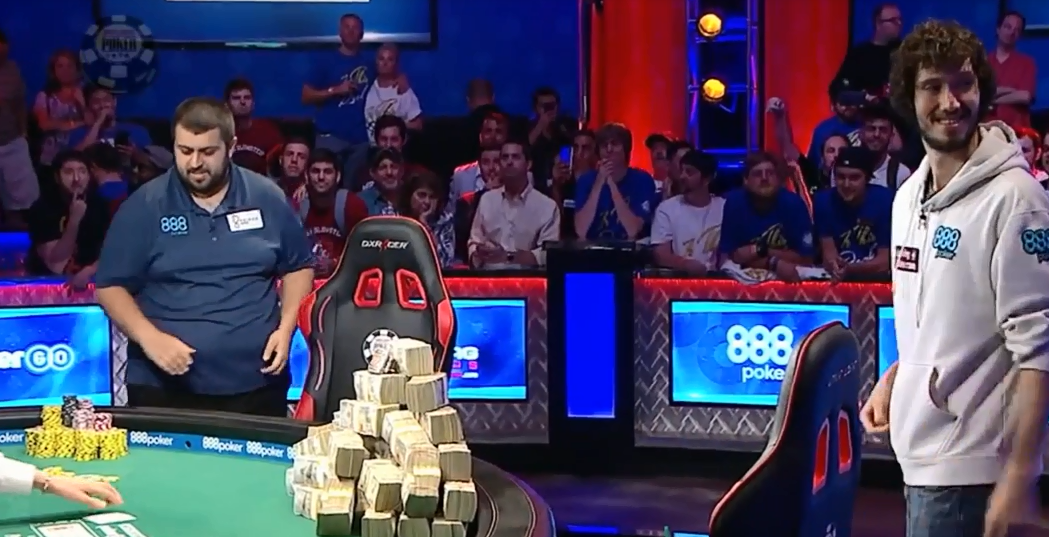 Credit: World Series Of Poker
The 25-year-old university graduate has a degree in accounting – something that will undoubtedly come into use going forward.
Blumstein, of Moorestown, New Jersey was dealt with an A-2 offsuit, whilst his opponent, Dan Ott from Altoona, Pennsylvania, was handed an ace of diamonds and an eight of diamonds.
Ott made the brave move and went all in.
The first four community cards were dealt as a jack of spades, a six of spades, a five of hearts and a seven of hearts. All in all, they gave Ott a 93 percent chance of winning.
The only thing that could stop him would be a deuce (a card with the rank of two).
Remarkably, despite Blumstein only having a chance of 4 from 44 cards, the next card turned over was the two of hearts which resulted in HUGE winnings (it's at the 11-minute mark).
Alongside his stack of money, he also gets the coveted WSOP bracelet.
On winning, he said: "I'm just in utter shock right now. Two weeks ago, I was just a kid who loved to play poker and somehow here I am the champion of the main event.
"Now I'm just thinking about the past six or seven years, all the events that led up to this. I'm just living a dream."
Blumstein's win sees him sit top of a pile of 7,200 contestants after 246 hands of poker. The final round finished after six hours and 40 minutes.
Don't feel too sorry for Ott, he still pocketed $4.7m for coming second.
Your 2017 @WSOP Main Event champion, Scott Blumstein @SBlum2711 https://t.co/al2bWNArM3 #WSOPME pic.twitter.com/LBX4e4OJuH

— PokerNews (@PokerNews) July 23, 2017
"I'm really happy about how I played tonight," Blumstein added. "This is just one poker tournament. It takes variance and luck and playing your best, and all those things came together, and I'm happy to be the winner."
Earlier this week, a poker players luck was also in, although his didn't ride on the back of a card.
Walter Fisher, who turned $2,000 into $97,000 between February and June 2016, was bet $500,000 that he couldn't lose his body weight that he'd piled on during his run, and get his body fat down to 10 percent.
Featured Image Credit: World Series Of Poker