Geert Wilders spent years contending that Islam threatened gay rights in the nation that gave marriage fairness to the world.
His party now leads polls in upcoming Dutch elections, and his battle cry is being copied by Donald Trump and France's Marine Le Pen.
For months they had endured an increasingly strident debate about immigration ahead of elections on March 15, and they were tired of being caught in the crossfire. The race has been dominated by Geert Wilders, the bleached-blonde leader of the Party for Freedom who polls show could win the largest bloc of votes in parliament. His candidacy is being watched as the next test of the nationalist wave that drove Britain out of the EU and put Donald Trump in the White House.
But the race is also uniquely focused on gay rights, because Wilders has framed his crusade against Islam in part as a defense of national values in the country proud to have adopted the world's first marriage equality law and has remained a leader on LGBT rights in the years since. And several more moderate politicians have echoed the message that Muslim immigrants threaten gay people.
"If you're looking for a dramatic shift, I think it's already happening," said Manju Reijmer, a 27-year-old born in Sri Lanka who was adopted by a family from a small Dutch town. A 29-year-old named Abdi, who was born in Somalia and fled the country's war in 1991, said this focus on gay rights is just one of the constantly changing "rules of integration" into Dutch society, which makes it feel "impossible to integrate into a society that does not accept your humanity as a person of color." (Abdi asked to withhold his last name because he hasn't come out to his entire family.)
Wilders' professed support of gay rights once put him out of step with other nationalist politicians in the West, who generally have also been social conservatives. But today Wilders seems like he was just ahead of his time, with politicians from Donald Trump to France's Marine Le Pen following his lead and saying they are defending LGBT rights by opposing Muslim immigration.
For many in the room, this is just racism dressed up in liberal drag, helping make nationalism respectable again in the West.
Immigrants are constantly being subjected to a "pink test," said Dino Suhonic, founder of the queer Muslim organization Maruf and organizer of the evening's gathering. Politicians are "using gay rights, as almost a [trait of] national identity," Suhonic said, but only when debating the place of "asylum-seekers and the immigrants." It's an attitude Suhonic calls "homonationalism."
"The freedom that gay people should have — to kiss each other, to marry, to have children — is exactly what Islam is fighting against," Wilders told BuzzFeed News last June in the wake of the attack on a gay club in Orlando, adding that the shooting should force a reckoning with the fact "that we've imported so much Islam to the Western free countries." The next month, he brought this message to the Republican National Convention, where he told a Gays for Trump party, "Anywhere in the West, if you allow Islam to be planted on your soil, don't be [surprised] that you will harvest Sharia law, because Islam and Sharia law [are] exactly the same."
Wilders stands almost no chance of becoming prime minister even if he makes a strong showing, and polls suggest his support is declining as election day approaches. He now stands to win about 15% of seats in parliament, but all six other major parties have declared they will not join his Freedom Party in a governing coalition. But he has already won a major victory regardless of the election outcome: setting the terms of the debate about immigration in the Netherlands so fundamentally that other Dutch politicians are picking up his message.
This includes the current prime minister, Mark Rutte, of the right-leaning VVD party, who framed his re-election bid with a letter published in January declaring, "We are feeling a growing unease when people abuse our freedom … [People who] harass gays, howl at women in short skirts or accuse ordinary Dutch of being racists … If you reject our country in such a fundamental manner, I'd rather see you leave." He ended with an ultimatum to immigrants that has become a VVD campaign slogan: "Act normal or leave."
Tofik Dibi, a gay man who is the son of Moroccan immigrants who was a member of the Dutch parliament from 2006 to 2012, often went toe to toe with Wilders on the floor of parliament. In an interview with BuzzFeed News, Dibi said anti-LGBT attitudes are a real problem in some immigrant communities, and the issue needs to be confronted. But many of the politicians who are using it to sound the alarm over immigration, he said, "don't give a fuck about gay rights."
As Dibi sees it, immigration opponents use the issue as just another reason to suggest immigrants can't ever be fully Dutch. Dibi said they are also suspicious of immigrant attitudes toward Jews and women, but homosexuality was usually their go-to issue.
"Of all of these tests, the gay rights is the one that is used the most because they know that that's the most difficult thing within these communities," Dibi said. In the battle over immigration, "LGBT rights are being used as a weapon."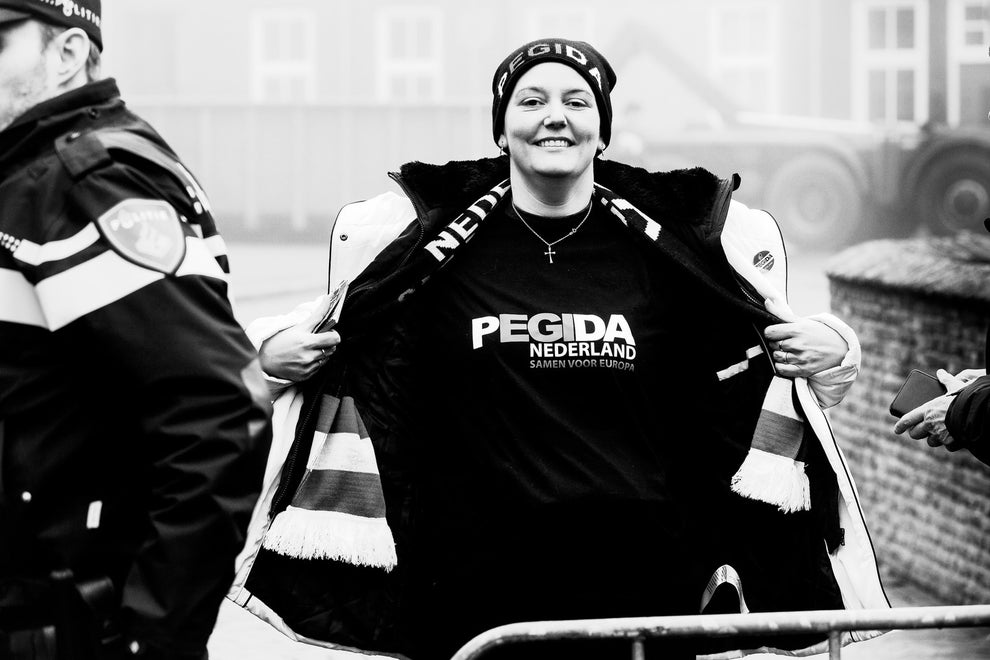 Geert Wilders formally kicked off his campaign on Feb. 18 beneath a mottled-gray sky in Spijkenisse, a town of around 75,000 outside the southern port city of Rotterdam.
Wilders, 54, dates his concerns about Islam to the time he spent living in Israel and traveling through the Middle East just after college. He began his life in politics as a social security adviser to the VVD party and was elected to parliament in 1998 as a loyal backbencher. He broke with his party in 2004 over advancing Turkey's membership in the European Union, and soon became known for lobbing hand grenades against Islam into the Netherland's largely consensus-driven politics.
"There is a lot of Moroccan scum in Holland [who] make the streets unsafe," Wilders said in Spijkenisse, his pompadour floating above a forest of microphones as reporters shoved each other to get close to him. Wilders had been found guilty of "inciting discrimination" in December for leading a crowd in a chant calling for "fewer Moroccans," and he has also called Muslim youths "street terrorists" and "Islamic testosterone bombs" waging "sexual jihad" on European women.
"I have one message for the Dutch people," Wilders said, speaking in English for the benefit of the large number of foreign reporters. "Please, make the Netherlands ours again."
Wilders generally avoids the press and only rarely appears in public, having lived under 24-hour police protection since 2004 after another high-profile anti-Muslim polemicist was assassinated. So the man who co-founded the Party for Freedom with Wilders, MP Martin Bosma, outlined the party's position on gay rights to BuzzFeed News.
"Our party platform has never mentioned anything concerning homosexuals except that gays are very much the victim of mass immigration right now — if gays are being beaten up, it's basically being done by Muslims," Bosma said as he strolled behind Wilders' heavy security detail as the party leader attempted to wander through Spijkenisse's Saturday market. "Amsterdam used to be the gay capital of Europe, and gays are going back into the closet thanks to mass immigration."
Many LGBT rights supporters suspect Wilders' support of LGBT rights is driven only by political expediency.