The five-year-old Anna has to stand on a stool to cook rice and vegetables to her grandmas
Her mother abandoned her and got married elsewhere. Her father was allegedly jailed when she was three months old. She was left with two bedridden grandmothers that she takes care of.
Grandmother and great-grandmother are Anna's only family members she has now
Anna lives in a faraway mountain in Zunyi city of south-west China, with her long-term ill grandmother and a 92-year-old great grandmother.
Anna's father was jailed when she was three-months old, after which her mother moved in with the in-laws. But the mother remarried after giving birth to Anna, leaving the little girl behind.
She then became the only one who could take care of the family. Responsibilities include cooking, cleaning and taking care of the two grandparents. It's not an easy task, as Anna has to wake up early in the morning every day to prepare meals for the grandmas.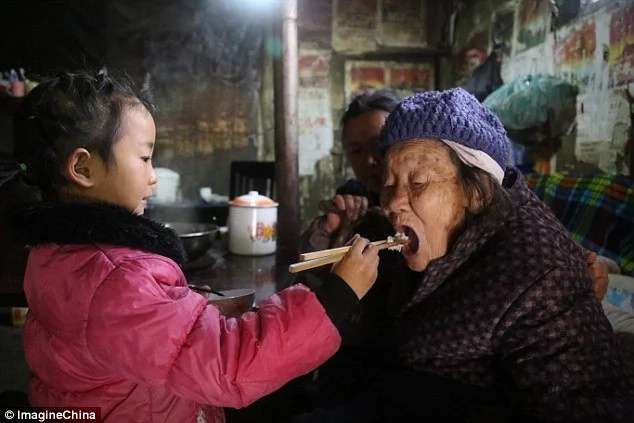 The petite Anna stands on a stool, stretching as far as she can to reach the stove and fry the vegetables.One of Anna's grandmother has a long-term septic arthritis, also known as infectious arthritis, that causes pain to any movement of the affected joints.So she cant move a lot.
Both her grandmother and great grandmother are almost bedridden, with very limited activity. But the young Anna doesn't complain. She tries her best to take them to toilet or a short walk near the house.
The girl's story has touched many hearts, especially the neighbours. They take her to their farm and pick fresh vegetables whenever she is out of food.She smiles a lot, and loves taking care of her grandmas.