Glasgow Airport suspended all flights this morning after it was hit by heavy snow.
With severe weather conditions sweeping across the north of the UK, the airport was forced to halt operations for two hours while special "winter operations teams" were sent in to clear the runway.
Flights were suspended at 7.30am, and started up again at 9.30am after the snow had been cleared.
A spokesperson for Glasgow Airport spokesperson told The Independent that teams had been on standby overnight after snow was forecast. They will remain on standby throughout the day, although the airport is "hopeful" that the worst weather has passed.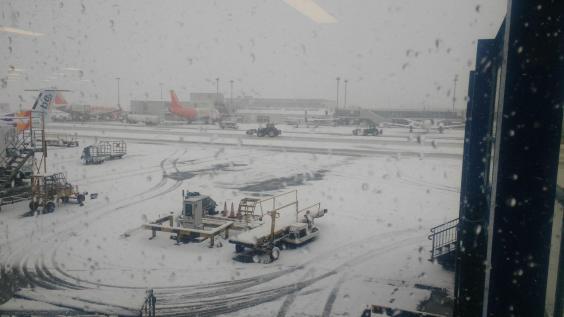 No flights have been cancelled as yet, though knock-on effects such as delays will continue throughout the day. The airport is advising passengers to check their flight status with their airlines. Glasgow Airport's Twitter account will also have live updates throughout the day.
Two flights are thought to have been diverted while the airport was closed this morning, but the planes are now believed to have returned to Glasgow.
Passengers posted photos of the snowy scenes on Twitter. One user, "Charlie Brown", shared a picture of his easyJet plane stranded at the gate.

However, they were later able to take off, according to his Twitter feed.
One passenger told The Independent that even getting to the airport had been problematic. Dan Durnan said: "It was one of the scariest drives of my life – the roads were covered in snow and ice and we had to drive most of the way in second gear to control the skidding. The M8 by the airport had a multiple car crash and appeared to be blocked, but emergency services were there. There was no sign of any gritting."
Jill Livingston, from London, was due to fly to London City Airport when her plane was grounded. The flight had been due to leave at 10.45am, but she told The Independent that airport staff were "de-icing" the plane and hoping to leave an hour late.
She added that passengers were "cheerful and not stressing."