Mark Cropp's interesting face tattoo has been a lesson for people around the world of what not to do if you eventually want to get a job. After complaining how the 'Devast8' design, which covered a third of his face, was holding him back from getting employment, the teenage dad has finally got a job.
His viral Facebook post mentioned he used to work in a scrap metal yard and a brick laying distributor; but his new job will be as a scaffolder.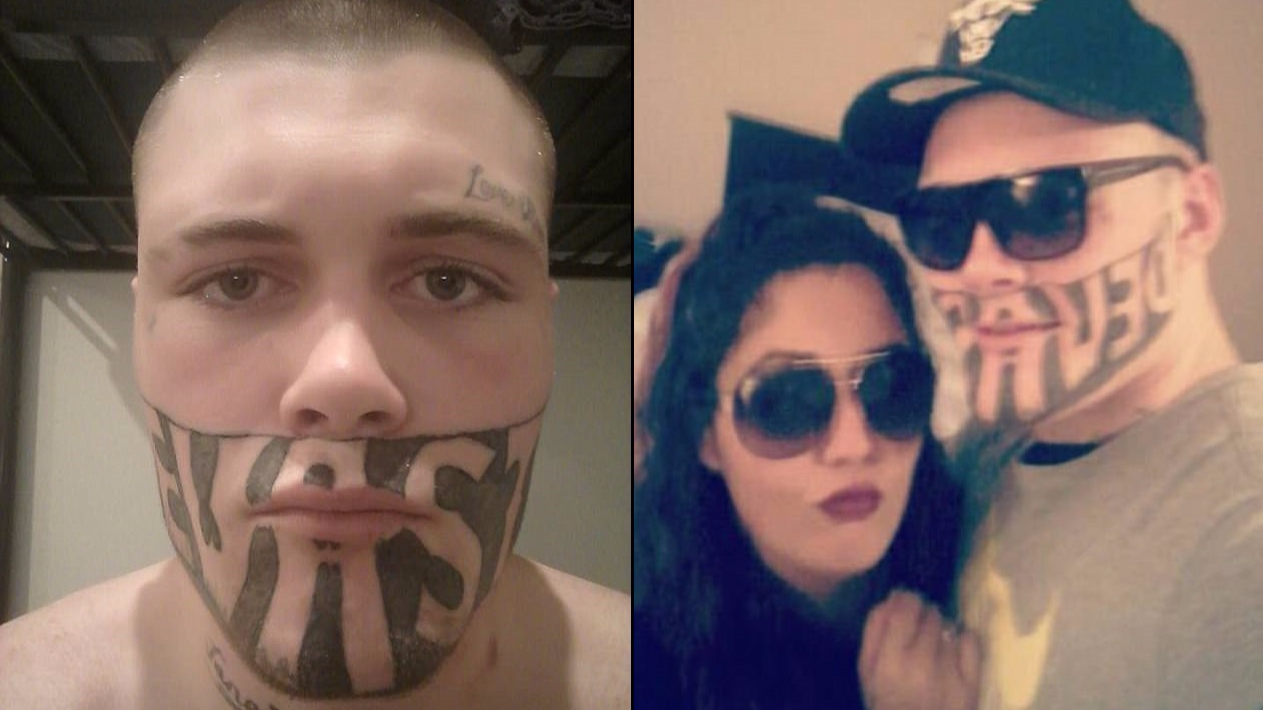 Credit: Caters
His girlfriend, Taneia Ruki, has told Daily Mail Australia: "He could be starting as early as Monday. We are still locking in the starting day."
The 19-year-old former prisoner was criticised after he revealed he had turned down more than 45 job offers, but Taneia adds: "Most of those were outside of New Zealand, so they weren't on the cards."
Mark also claimed that some offers required him to have a car, so he had no choice but to turn them down.
He embarked on his first laser removal session this week, which looked extremely painful. It's believed he needs to have another 11 sessions at Sacred Laser to get the ink completely removed, but he's getting it free of charge.
Mark says the tattoo came after a drunken night in prison, where inmates managed to make an alcoholic brew out of fermented apples, sugar and bread. It was supposed to be a small design along his jawline, but his brother got 'carried away'.
The other prisoners fashioned a tattoo gun out of a cassette player and a spring found inside a pen. They made the ink from burning plastic knives and forks and mixing the black powder with water and toothpaste.
He reached international fame after posting this Facebook status, looking for work.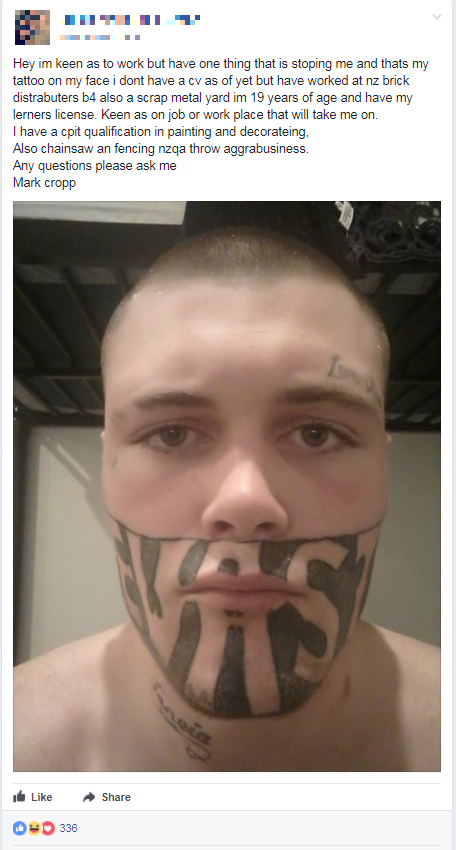 Credit: Caters
It read: "Hey im keen as to work but have one thing that is stoping me and thats my tattoo on my face i dont have a cv as of yet but have worked at nz brick distrabuters b4 also a scrap metal yard im 19 years of age and have my lerners license," he wrote. "Keen as on job or work place that will take me on. I have a cpit qualification in painting and decorateing,
"Also chainsaw an fencing nzqa throw aggrabusiness. Any questions please ask me."
The word 'Devast8' is the 19-year-old's nickname, because, according to him, he devastates everything he comes into contact with.
Featured Image Credit: Caters