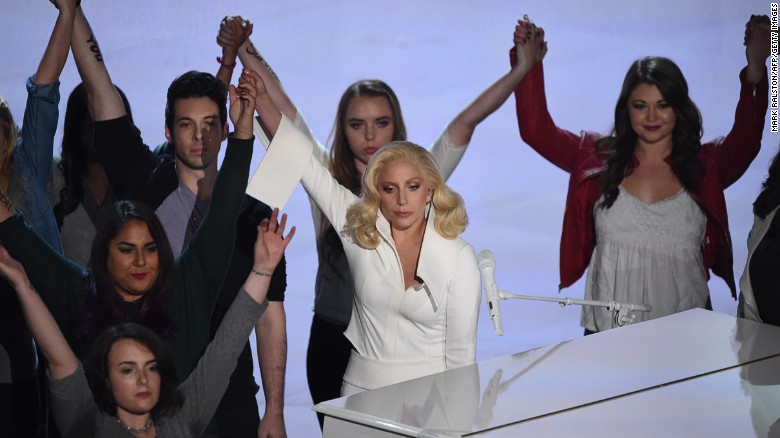 (CNN)It may have been the most emotional moment of the Oscars.
Toward the end of Lady Gaga's impassioned performance of "Til It Happens to You," her Oscar-nominated song about sexual assault, a curtain parted onstage, and dozens of grim-faced young men and women stepped forward. The group, all of them survivors of sexual assault, exposed their forearms to reveal such words and phrases as "Survivor," "You Are Love," "Unbreakable" and "Not Your Fault."
https://twitter.com/ABCNetwork/status/704171754046947328
When Gaga wrapped the song, the men and women joined hands and raised them in solidarity. The Dolby Theatre audience rose for a standing ovation. Several stars, including Rachel McAdams and Kate Winslet, had tears in their eyes.
Many were moved on Twitter as well.
"#ItsOnUs These survivors. Wow. Floored by the courage. And beauty. And realness. #Oscars @ladygaga Thank you," tweeted "Scandal" actress Kerry Washington, who was present.
#ItsOnUs
These survivors. Wow.
Floored by the courage. And beauty. And realness. #Oscars @ladygaga Thank you.

— kerry washington (@kerrywashington) February 29, 2016
thank u @ladygaga and VP @JoeBiden for bringing attention to sexual assault at the oscars. it hit very close to my heart for obvious reasons

— kesha (@KeshaRose) February 29, 2016
Thank you to the survivors who stood on stage with @ladygaga at the #Oscars. Your courage is inspiring. #ItsOnUs pic.twitter.com/m34IZKkam9

— It's On Us (@ItsOnUs) February 29, 2016
The song, co-written by Gaga and Diane Warren, is from "The Hunting Ground," a CNN Films documentary about the recent wave of sexual assaults on American college and university campuses.
Gaga's performance was introduced by Vice President Joe Biden, who encouraged Americans to take action against campus sexual assault and directed viewers to a website, It'sOnUs.org, which promptly crashed under the weight of sudden traffic.
"Let's change the culture," Biden said. "We must, and we can."
Wearing a white pantsuit and sitting at a white grand piano, Gaga poured herself into the song. The pop singer has said she herself was raped when she was 19.
"It's such an important song for me," Gag said on the red carpet before the show. "One in 5 women will be raped before they finish college."
It's been quite a month for the singer, who has long captivated fans with her bold songs and attention-grabbing outfits. With her performance Sunday, Gaga became the first entertainer to sing at the Super Bowl, the Grammys and the Oscars in one year.
"Til It Happens to You" didn't win the Oscar, though. That went to "Writing's on the Wall," the theme song from the James Bond movie "Spectre," co-written and sung by Sam Smith.
Source: CNN