A little boy who was constantly thirsty has been found to have the kidney function of an 80-year-old.
Six-year-old Zach Tiereny's parents noticed that their son couldn't stop drinking, so decided to take him to see a doctor to check everything was OK.
He was eventually found to have renal dysplasia, leaving him with just 25 percent kidney function, and will need either dialysis or a new kidney by the time he hits puberty. Levels as low as Zach's are not usually found in people under 80.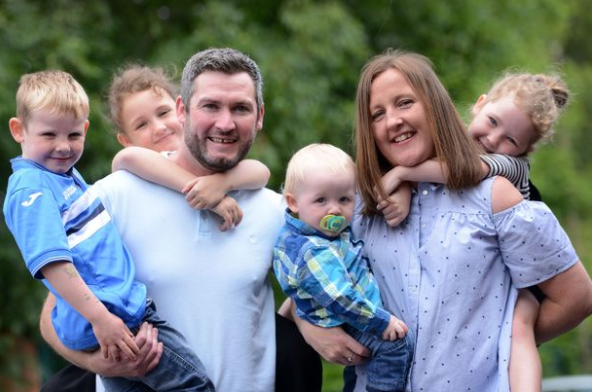 Zach with his family, who are now raising funds for Kidney Research UK. Credit: Manchester Evening News
Zach's mum Michelle told the Manchester Evening News: "I'm a nurse so I had a feeling something was not quite right with him. He was thirsty all the time.
"We would find him in the bathroom in the middle of the night drinking from the tap and he wasn't growing as much as his peers.
"It is a scary disease as you don't know anything about it before it's too late. But he is a cheeky little boy who talks about his kidneys as if they are people inside him.
"He's very brave and resilient and interested in what is going to happen to him in future."
Zach, who lives with his mum Michelle, dad David, sisters Aoife and Niamh, eight and five, and brother Samuel, one, now lives on a strict diet with restricted protein, fat and dairy intake.
Zach's family are now trying to raise funds as well as awareness for Kidney Research UK, because they believe it doesn't get the same attention as other charities that deal with diseases.
The family managed to raise £2,000 after holding an event at their home on Saturday and continue to raise money, and the profile of Kidney Research UK, via their Facebook page.
Zach's nan Marie said: "Everyone has been so kind. Kidney disease is not as well known and doesn't have as high a profile as other diseases.
"The money we are raising will help buy dialysis and improve the lives of children like Zach."
Featured Image Credit: Manchester Evening News