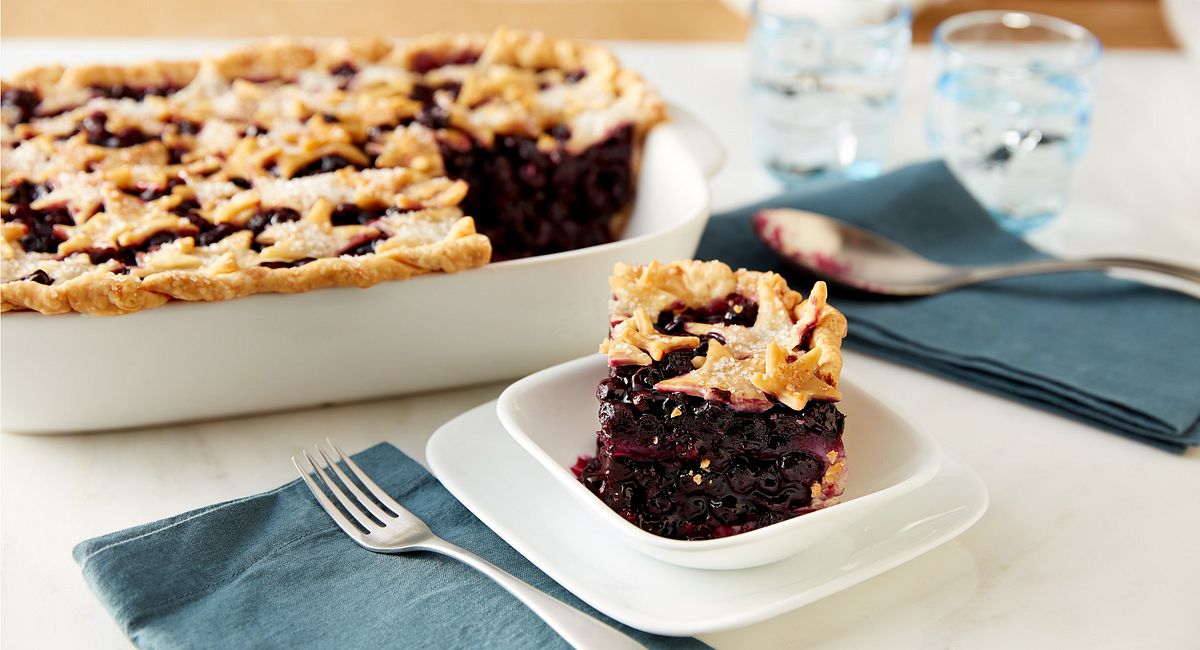 RECIPE DETAILS
YIELD: 12 servings
PREP TIME: 25 minutes
TOTAL TIME: 2 hours
INGREDIENTS
2 packages (14.1 oz each) refrigerated pie crust
12 cups fresh or frozen (do not thaw) blueberries
1 cup granulated sugar
1/2 cup cornstarch
2 tablespoons freshly squeezed lemon juice
4 tablespoons butter, cut into small pieces
2 tablespoons milk
2 tablespoons sparkling sugar
INSTRUCTIONS
Heat oven to 400°F. Remove 2 pie crusts from pouches. On lightly floured surface, unroll and stack crusts on top of each other. Roll to 16×12-inch rectangle. Fit crust into ungreased CORNINGWARE® 3-QT BAKER pressing into corners. Fold extra crust even with edges of dish. Crimp edges.
In large bowl, gently mix blueberries, granulated sugar, cornstarch and lemon juice. Pour into crust. Sprinkle butter pieces evenly over filling
Unroll remaining pie crusts; use large and small star-shaped cookie cutters to cut into stars.
Arrange star cutouts over filling, overlapping edges. Make sure some of the stars' points reach the top edge of the bottom crust.
Brush top crust with milk; sprinkle with sparkling sugar.
Place baking dish on cookie sheet. Bake 20 minutes. Reduce oven temperature to 350°F; bake 1 hour to 1 hour 15 minutes longer, until crust is golden and juices are bubbly. Cool completely before serving.