One can of air freshner, plus a naked flame, has equalled one lucky escape for a man in Shrewsbury, Shropshire.
He walked away with some minor burn injuries and written-off car as the aerosol exploded just moments after he had sprayed it.
The man, known as Joe, had lit the cigarette on Sunday evening in a pub car park, causing the can to explode, and leaving the passenger door hanging on its hinges.
He was taken to Queen Elizabeth Hospital with just minor burns to his head, legs and arms, whille police inspected the damage outside the Two Henry's Pub.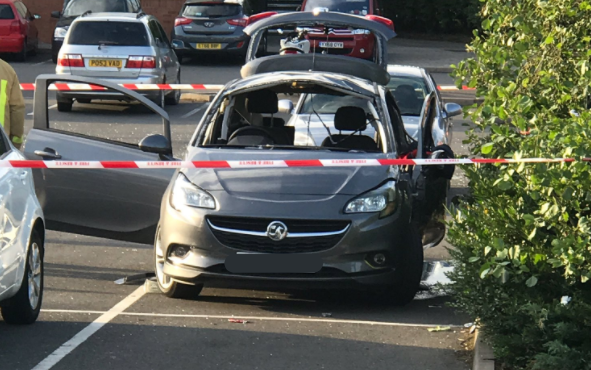 Credit: OPU Shropshire
"It is believed to have been caused when a lighter was in contact with an air freshener, that had been sprayed moments earlier within the vehicle," a spokesperson for West Mercia Police said.
They continued: "This damaged the vehicle and led to the windscreen being forced 75 feet away from it.
"The driver, a man in his 20s, received minor burn injuries following the incident, and was taken to Birmingham Queen Elizabeth Hospital by land ambulance for treatment."
Sergeant Col Robinson added: "This appears to be an isolated incident and did not cause any danger to the wider public.
"However, this shows the potential dangers that can be caused by spraying aerosol cans within confined spaces."
The incident, attended to be paramedics and fire fighters, has been described as a 'freak accident'.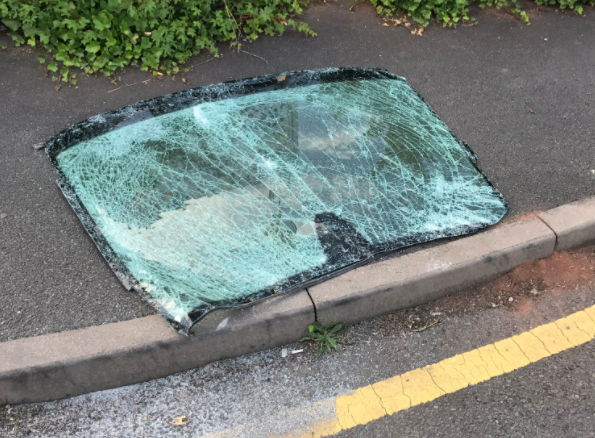 Credit: OPU Shropshire
One of the pub's staff members, Katherine Castle, who was working at the time, added on a Facebook post: "It was crazy, we all felt the explosion, some tables even fell over in the playzone.
"He came in our staffroom to get treated."
The blast could be heard by residents nearby who claim that the windows rattled and left others scared
"I heard a massive bang," said local Burger King worker, Elliot Grimes-Williams. "At first I thought it was just a machine in here but then I realised it was something more when I saw shrapnel flying through the sky.
"I have to say, it was terrifying. Once it went quiet I walked over and saw the car. I don't know who the man was but it looked bad."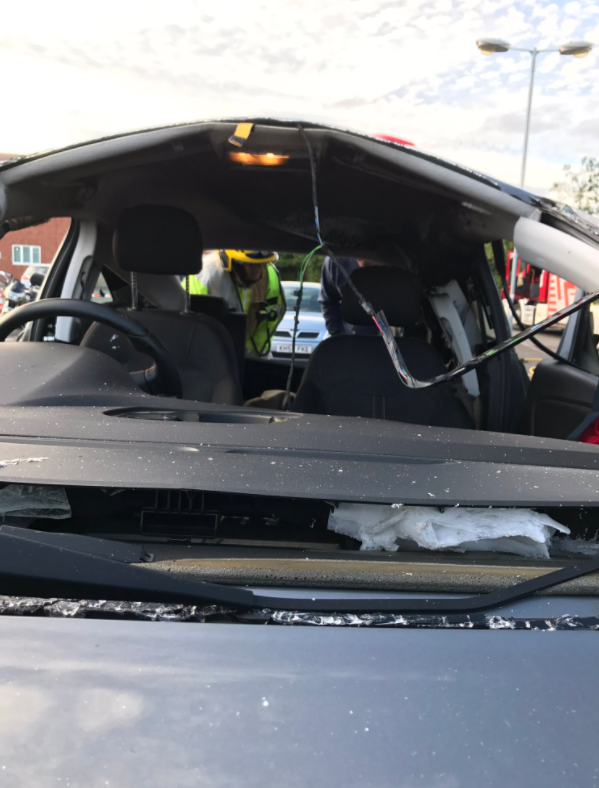 Credit: OPU Shropshire
A statement on the pub's Facebook page, said: "A number have customers have already been in contact with us to ask if Joe, who was in the car, was OK.
"We bought him into the pub and did as much first aid as we could until the paramedics arrived and fortunately he seemed OK.
"We want to say thank you to a customer, also Joe, who is training to be a paramedic, who instantly offered assistance."
After warning customers about the remains of debris left from the explosion, the pub wished Joe a speedy recovery and said they 'hope to see him soon for a beer'.
The dangers of exploding aerosol's is no a new topic. Earlier this year, police had to warn teenagers sniffing the fumes of burning wheelie bins, in a bizarre new trend, as just one could prove fatal if it was to contain an pressurised can inside.
Featured Image Credit: OPU Shropshire