Former first lady Nancy Reagan, who joined her husband on a storybook journey from Hollywood to the White House, died Sunday.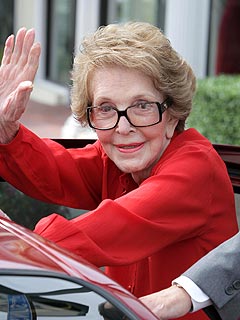 She was 94.
Reagan died at her home in Los Angeles of congestive heart failure, according to her spokeswoman, Joanne Drake of the Ronald Reagan Presidential Library.
Nancy Reagan with Michelle Obama
"Mrs. Reagan will be buried at the Ronald Reagan Presidential Library in Simi Valley, California, next to her husband, Ronald Wilson Reagan, who died on June 5, 2004. Prior to the funeral service, there will be an opportunity for members of the public to pay their respects at the library," Drake said in a statement.
The former first lady requested that contributions be made to the Ronald Reagan Presidential Library and Foundation in lieu of flowers, the statement said.
In a statement, President Barack Obama thanked Reagan for her "warm and generous advice."
"Our former First Lady redefined the role in her time here," he continued. "Later, in her long goodbye with President Reagan, she became a voice on behalf of millions of families going through the depleting, aching reality of Alzheimer's, and took on a new role, as advocate, on behalf of treatments that hold the potential and the promise to improve and save lives.
"We offer our sincere condolences to their children, Patti, Ron, and Michael, and to their grandchildren. "
Republican leaders also paid tribute.
"With the passing of Nancy Reagan, we say a final goodbye to the days of Ronald Reagan," wrote 2012 GOP presidential nominee Mitt Romney on Facebook. "With charm, grace, and a passion for America, this couple reminded us of the greatness and the endurance of the American experiment. … God and Ronnie have finally welcomed a choice soul home."
Former first lady Barbara Bush, whose husband George H.W. Bush succeeded Ronald Reagan as president, said, "Nancy Reagan was totally devoted to President Reagan, and we take comfort that they will be reunited once more. George and I send our prayers and condolences to her family."
Former President George W. Bush and his wife, Laura, also were moved by Reagan's death.
"Mrs. Reagan was fiercely loyal to her beloved husband, and that devotion was matched only by her devotion to our country," Bush said in a statement.
He observed that her influence on the White House was "complete and lasting."
A fierce protector
As first lady during Ronald Reagan's eight years in the White House, Nancy Reagan was known as the "Just say no" spokeswoman of anti-drug campaigns and as a fierce protector of her husband, both personally and politically.
When Ronald Reagan was shot in a 1981 assassination attempt, Nancy Reagan never left the hospital where the president was treated until he was released, according to her press secretary, Sheila Tate.
After she and her husband left Washington, she became his protector again as he struggled with Alzheimer's disease until his death in 2004. Afterward, she remained a staunch guardian of his image and legacy.
"She was always the one who kept the flame alive," said CNN senior political analyst David Gergen, a former Reagan adviser.
Her official White House biography quotes Nancy Reagan as saying, "My life really began when I married my husband."
Read more on CNN