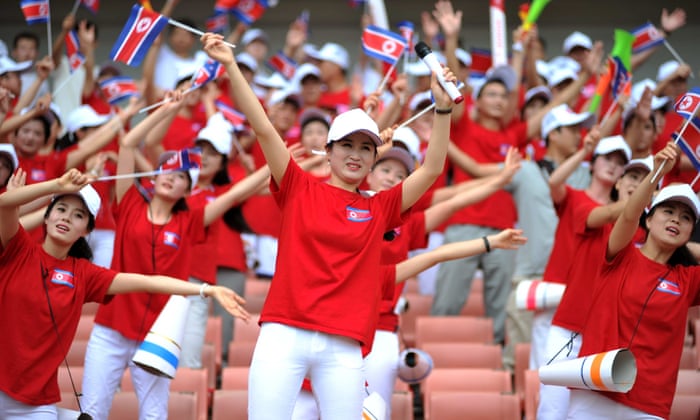 North Korea will send a large contingent of cheerleaders to next month's Winter Olympics in South Korea, as the two sides prepare to present their plan for a "peace games" to the International Olympic Committee (IOC) at the weekend.
South Korea's unification ministry said on Wednesday the North had offered to send 230 members of its all-female cheerleading squad, during their third meeting at the border village in Panmunjom in 10 days.
Officials from both countries also discussed the possibility of forming a joint women's ice hockey team, and having athletes from both countries march together during the opening ceremony at the Pyeongchang Games, which open on 9 February.
The unification ministry said the two countries had also exchanged opinions on the size of the North Korean team, joint cultural events and the possible use of the Masikryong ski resort in North Korea.
Pyongyang and Seoul must work out how the North Korean delegation, which could comprise up to 500 athletes, cheerleaders, musicians, officials and journalists, will cross the border into South Korea, and who will pay for their accommodation and other costs.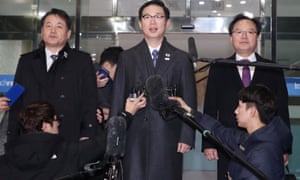 Reports said the delegation would probably walk across the demilitarised zone – the heavily armed border separating the two Koreas – in what would be a highly symbolic move.
Arrangements for North Korea athletes to compete in Pyeongchang have been made at breakneck speed since the start of the year, when North Korea's leader, Kim Jong-un, offered to send a delegation to the Games.
"Inter-Korean relations have been strained for almost 10 years … in this regard, we hope that an era of better ties can begin," Jon Jong-su, the North's chief delegate, was quoted as saying by Yonhap news agency.
Officials from both countries will present their plan to the IOC in Lausanne on Saturday.
South Korea is under pressure not to agree to any proposals that could violate sanctions against the North, particularly if the delegation includes senior government officials blacklisted by UN security council measures agreed in response to Pyongyang's ballistic missile and nuclear tests.