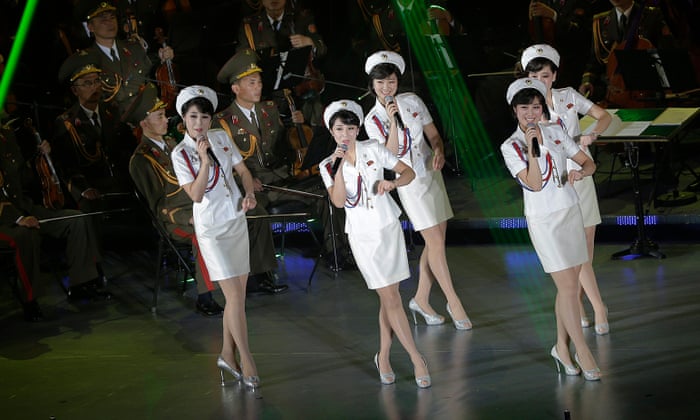 North Korea's best-known pop group could join the country's athletes and cheerleaders at next month's Winter Olympics in South Korea – provided their repertoire omits the revolutionary songs that have made them hugely popular at home.
Reports said a troupe of artists from the North would cross the border into South Korea on foot – although the exact composition of the group was not immediately clear.
The two countries met on Monday to discuss an appearance at the Pyeongchang Games by North Korean artists, who are likely to include the all-female Moranbong Band.
Last week senior officials from North and South Korea held talks for first time in more than two years, following an offer to send a delegation to the Games by the North Korean leader, Kim Jong-un.
The North Korean officials included Hyon Song-wol, the Moranbong Band's leader, fuelling speculation that the group would be part of the Olympic delegation.
South Korea's Yonhap news agency reported that a 140-member North Korean orchestra would perform in Seoul and Gangneung, a city on the east coast, during the Olympics.
Formed in 2012 to project a more modern image of North Korea, the Moranbong Band are among the country's few performers to have attracted international interest.
The musicians, who are reportedly handpicked by Kim, play a mixture of western pop covers and songs lauding the Pyongyang regime, such as Mother's Birthday, a tribute to the ruling Workers' party, and We Call Him Father, an ode to Kim.
But lyrics praising the North could fall foul of South Korean security laws, and any attempt to use the Games to peddle regime propaganda could quickly backfire, according to Cheong Seong-chang, an analyst at the Sejong Institute in Seoul.
"If the Moranbong Band members, who are all formally military officers, come to the South in military uniforms, it could cause discomfort among many South Koreans," Cheong said. "And it would stir an even bigger controversy if any praise of Kim Jong-un or missile launches are featured on the stage during their performance."