The feature is a step up from the now prevalent fingerprint scanner, and offers a similarly easy but secure way of locking phones
At events in New York, Rio and London, Samsung today revealed its latest flagship phone. That's the third major handset this year from the manufacturer, after the success of the Galaxy S7 and Galaxy S7 edge released in the spring.
This time it's the Samsung Galaxy Note 7, the latest in the big-screen phone range which Samsung has pioneered. There was no Note 6, by the way, because the Note series has been re-numbered to reflect the fact that this handset builds on the features in the S7 range. And why not, the S7 and S7 edge have been extremely successful.
The first Note, released in 2011, had a screen measuring 5.3 inches on the diagonal. Preposterous, we said, it'll never catch on, what were Samsung thinking?
It turned out that Samsung had correctly anticipated the rising demand for what was then called a phablet. Now every manufacturer, including Apple, has a phone with a screen larger than the original Note in its arsenal.
The latest model has a 5.7in display, though it has managed in successive models to increase screen size without adding to the overall size of the handset. The Note 7 is 7mm taller than the first Note but not as wide and thinner. Phones may be getting bigger, but our hands aren't.
The first thing you notice about the Galaxy Note 7 is its smoothness. The edges are so perfectly aligned that the phone can be rolled in your hand as satisfyingly as a worry stone. And because the screen slopes down on both sides and the back scoops up, it's an especially comfy phone to hold.
Samsung is the real challenger to Apple for the top end of the smartphone market and with a handset like this it's easy to see why. It feels classy in every detail (which wasn't always the case with Samsung).
This is the most secure phone Samsung, or perhaps any company, has made. Partly because it includes Samsung's own Knox platform and mostly because it supplements the fingerprint sensor that is increasingly standard on smartphones with a new development: iris recognition.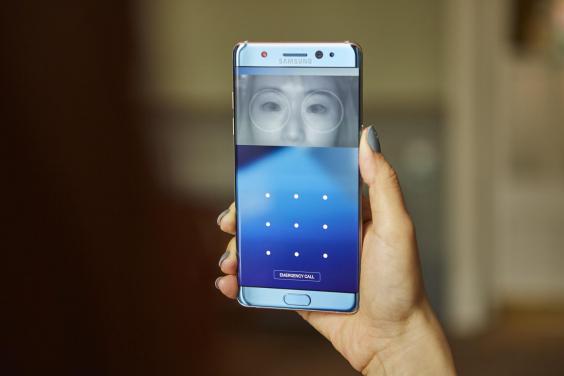 Our irises are as unique as our fingerprints, Samsung says, and the sensor works even if you're wearing contact lenses or glasses. To use it, you press the home button and look at yourself in the two slightly spooky grey circles that appear on screen. In less than a second the sensor decides if it's you and unlocks the phone.
Samsung says that banks and other organisations are already looking to build iris recognition into their phone apps. Like fingerprint recognition, something like this creates an intimate and personal relationship between phone and user.
Note handsets have always had another unusual feature, a built in stylus. The S Pen, as it's called, is there so you can scribble notes on screen, highlight text and more. With the Note 7 you can even jot stuff on the screen when it's in standby and the phone will store it anyway. That's thanks to the always-on display technology which arrived with the S7 and which displays the clock at all times so you don't need to wake the screen to see how late you are. And now it has a memo feature added for those sudden, mustn't-be-forgotten thoughts.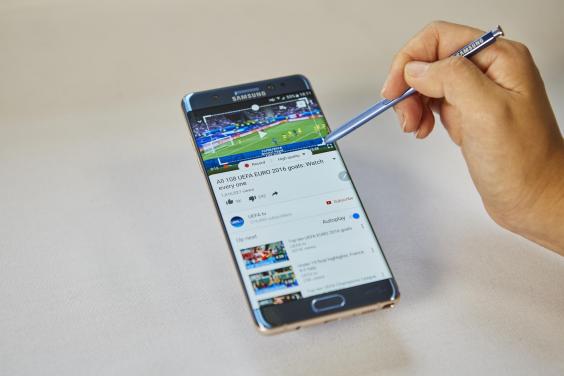 This version of the S Pen, a slim stylus that slips into the corner of the phone for storage, has been improved with a subtler pressure sensor (4096 levels recognised) which means among other things that you can draw in more varied ways. It has a smaller tip, measuring 0.7mm so that it feels more like writing with a real pen.
It now works when it's wet. So if you're writing on the screen when it's raining then the pen and screen will recognise each other. Though also, why aren't you indoors?
It may not sound much, but getting a stylus and a capacitive touchscreen to work together with water in the equation is a pretty impressive thing. Oh, and in case you're wondering if the rain will damage the phone, the Note 7 has the same IP68 ingress rating, meaning it's water-resistant in 1.5 metres of water for up to half an hour. It's also dust-proof.
Samsung's display technologies have always been cutting-edge and the company's use of AMOLED (Advanced Matric OLED) screens has become a signature for the company.
This one adds a new feature, HDR (High Dynamic Range) which as a display technology is almost exclusively found in the most advanced TVs. It relies on a screen capable of extreme brightness levels in order to generate images which show detail in bright skies and shadowy areas simultaneously, to dramatic effect. Samsung says it will revolutionise what video playback on mobile devices is like, though I didn't see enough content yet to form a definite opinion. It will also be able to upscale non-HDR content, apparently.
The display is very high-resolution (518 pixels per inch) which means that it's more detailed than the eye can routinely see. But in case you think that's overkill, it means that when you plonk it into the optional Virtual Reality headset accessory, it gives you great VR capabilities up close.
Samsung also announced that the Galaxy Note 7 will have an updated user interface with fewer colours and simpler shapes – all part of the design which aims to offer a calming and balanced-colour concept.
The new phone has a big battery (3500mAh, compared to a 3000mAh cell in the last Note) so it shouldn't leave you high and dry.
It has a 12-megapixel rear camera and 5-megapixel front-facing one. There's a fast Octacore processor and it weighs 169g – certainly it feels light in the hand. It comes in three opulent (and opulently named) colours: black onyx, silver titanium and blue coral, the last of which is especially good-looking.
You can order the Samsung Galaxy Note 7 from 16 August and it goes on sale on 2 September.
I'm already looking forward to testing this phone in detail. It combines Samsung's established Note highlights (stylus, high-resolution screen, apps that work on the screen's edge) with deluxe, attractive styling and clever new features.