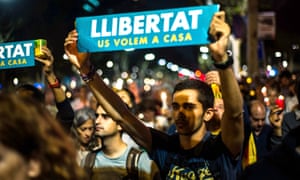 Spain is set to enter uncharted political territory as the prime minister, Mariano Rajoy, prepares to carry out his threat to halt the regional Catalan government's push for independence byimposing direct rule from Madrid.
Last week, Rajoy warned the Catalan president, Carles Puigdemont, that he had until 10am on Thursday to abandon his secession plans and return the region to "constitutional order".
Failure to do so, he said, would result in the Spanish government taking the unprecedented step of invoking article 155 of the country's post-Franco constitution and assuming control of the region.
The unilateral Catalan independence referendum held on 1 October has plunged Spain into its worst political crisis since its return to democracy four decades ago.
Although Puigdemont has claimed that the poll – in which 90% of participants opted for independence – has given his government the mandate to forge a sovereign state, he has ignored Rajoy's demand to clarify whether or not independence has actually been declared.
He has instead proposed that the effects of an independence declaration be suspended for two months while both sides embark on dialogue to resolve the standoff.
On Wednesday, the Spanish prime minister issued a last-minute call for Puigdemont to calm the situation and act in the interests of all Spaniards and Catalans.
Speaking in parliament, Rajoy asked Puigdemont's colleagues to persuade him "not to make any more problems" that would "oblige the government to make decisions that would be better never to make".
There was also speculation that the Catalan government might try to avoid the triggering of article 155 by calling new regional elections. However, the Catalan foreign minister, Raül Romeva, insisted such a move was not being considered, telling reporters in Brussels: "Elections from our perspective are not an option."
Tensions in the already fraught impasse rose further earlier this week after a judge at Spain's national court denied bail to two prominent Catalan independence leaders who are being investigated for alleged sedition.
Jordi Sánchez, the president of the Catalan National Assembly (ANC), and Jordi Cuixart, the president of Òmnium Cultural, are accused of using huge demonstrations to try to stop Spanish police officers following a judge's orders to halt the referendum.
Their detention prompted huge protests across Catalonia on Tuesday. On the same day, Spain's constitutional court announced that it had annulled the Catalan law that had paved the way for the referendum, adding that the right to "promote and enact the unilateral secession" of a part of the country was not recognised in the Spanish constitution.
About 2.3 million of Catalonia's 5.3 million registered voters – 43% – took part in the referendum. According to the Catalan government, 770,000 votes were lost after Spanish police stepped in to try to halt the vote.