5. Hank Aaron 1954 Topps Card – $357,000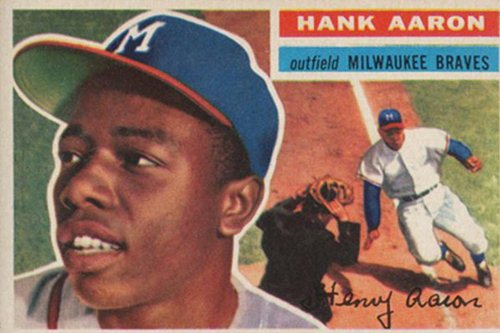 Henry Aaron, aka Hammerin Hank, is one of the most influential power hitters to ever play the game. On April 8th, 1974 he cemented his place in the record books with his 715th Home Run. His record of 755 lasted 33 years until Barry Bonds surpassed it 2007. This card is a member of the Dmitri Young Collection which is PSA 10 GEM Mint condition cards. This 1954 rookie card sold as part of the $2.4 million collection. Among collectors this card remains one of the most sought after rookie cards in history.
4. Eddie Plank 1909-1911 ATC T206 – $414,000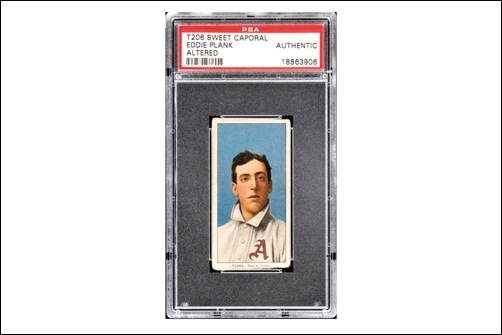 Eddie Plank, Gettysburg Eddie to his fans, was a Hall of Fame pitcher who played in the majors from 1901 to 1917. This card like the rest of the T206's was put out by the American Tobacco Company. The 1909-1911 series is one of the most coveted sets in the hobby. A Hall of Famer since 1946, he is remembered for many things; including being the first lefty to win 300 games. So it's no wonder that this card is worth over $400,000. Eddie Plank's sports card came fourth in our list of most valuable sports cards ever sold.
3. Roberto Clemente 1955 Topps Rookie Card – $432,000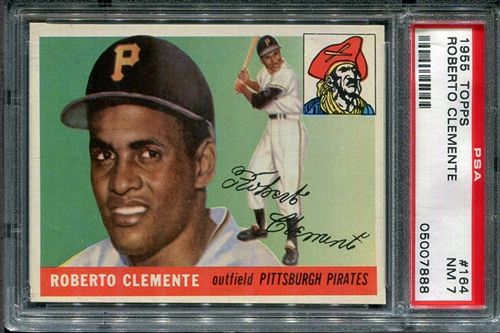 Roberto Clemente was a Puerto Rican who came to the United States to become a Half of Fame right fielder for the Pittsburgh Pirates. He had over 3,000 hits in the course of his career and led his team to a 1971 World Series victory. He died in a plane crash at the young age of 38. There is only one of these cards that have ever been given a perfect PSA 10 rating, out of nearly 3,000. Considering a PSA 8 graded one went for around 6,000 it's stunning to see just how much condition can be valued.
2. Babe Ruth 1914 Baltimore News Card – $517,000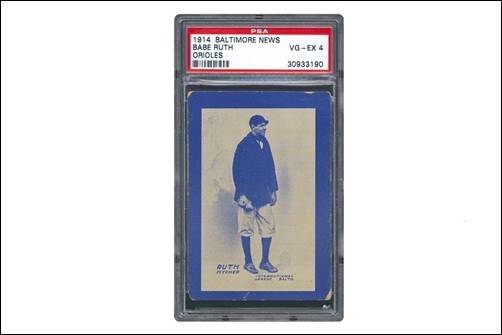 Babe Ruth, the great bambino, the sultan of swat, no matter what names you pick he is the most beloved sports player in American history. The fact that his sports cards rank among the most valuable sports cards is really no surprise. His 1914 rookie card easily makes the number 2 spot, it one of the most expensive sports cards ever sold. This card is worth just around half a million dollars. Of the only 10 believed to exist today, none of them are in very good condition. Only 10 of these cards are believed to be in existence today. One is in the Babe Ruth Museum in Baltimore, Maryland. The other few are owned by anonymous multi-millionaire collectors. It is unlikely that any of these examples will be available in the foreseeable future (if ever). If ever there is one found that has a Grade above PSA 7-8 you might see numbers that rival the T206 Wagner.
1. Honus Wagner T206 – over $2 million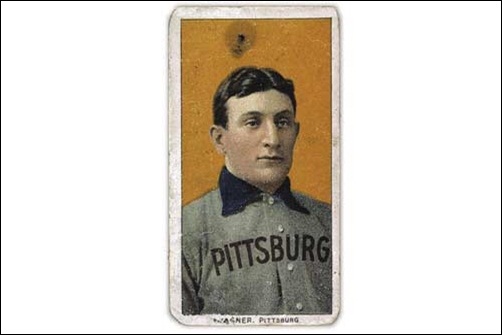 At number one of the most valuable sports cards is the T206 Honus Wagner baseball card which is an ultimate collectors dream. Only 50 to 200 ever released. Honus was a dead-ball era player, considered to be one of the best of all time. This card was made by the American Tobacco Company from 1909 to 1911, as part of its T206 series. Wagner ordered them to cease production of this card immediately, because he did not want kids to buy cigarette packs, especially to get his card. The ATC ended production of the Wagner card and thus created an extreme rarity. On April 20, 2012, New Jersey collector bought a low-grade T206 Wagner for more than $1.2 million. On April 6, 2013, a T206 Wagner was bought for over $2 million in an online sale by Goldin Auctions.
Source – wonderslist