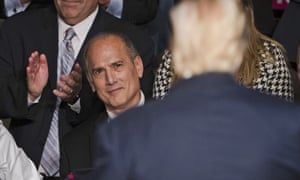 Tom Marino, the Pennsylvania congressman who Donald Trump nominated to be his "drug czar", has withdrawn from consideration, the president said on Tuesday.
"Rep Tom Marino has informed me that he is withdrawing his name from consideration as drug czar," the president tweeted. "Tom is a fine man and a great Congressman!"
A spokesperson for the Pennsylvania Republican did not immediately respond for a request for comment.
Marino was nominated to lead the National Office of Drug Control Policy, a key role in efforts to tackle the epidemic in opioid addiction and abuse that Trump on Monday called a "massive problem", saying that he would make a major announcement on the subject next week.
On Sunday, Marino was the subject of a joint report by the Washington Post and 60 Minutes about his role as the sponsor of a bill that critics say undermined federal enforcement efforts against the opioid epidemic.
The bill made it far more difficult for the Drug Enforcement Administration (DEA) to crack down on drug companies that made suspicious shipments of opioids.
At his Rose Garden press conference with the Senate majority leader, Mitch McConnell, on Monday, Trump called Marino "a good guy" but added: "I did see the report. We're going to look into the report. We're going to take it very seriously."
The president said he planned to speak to Marino. He said: "If I think it's 1% negative to doing what we want to do, I will make a change."
Among Democrats, Senator Joe Manchin of West Virginia, a conservative representing a state ravaged by opioid addiction, called on Trump to withdraw Marino's nomination.
The Senate minority leader, Chuck Schumer, said on Tuesday that confirming Marino would be like "putting the wolf in charge of the henhouse".
"The American people deserve someone totally committed to fighting the opioid crisis," the New York senator said, "not someone who has laboured on behalf of the drug industry."
The nomination would be "another betrayal in a long line of betrayals on issues near and dear to rural America", Schumer said.
Marino is a four-term representative who in February 2016 became the fifth member of Congress to endorse Trump's campaign for the White House. Before his election, he served as US attorney for the middle district of Pennsylvania from 2002 to 2007, under President George W Bush.