The US government has imposed sanctions on 13 senior Venezuelan officials as pressure mounts on President Nicolás Maduro ahead of a controversial vote for a new constituent assembly.
The sanctions freeze the US assets of those affected, and stop US entities from doing business with them.
Those targeted include the interior minister and the head of the army.
Last week, President Donald Trump vowed "strong and swift economic actions" if Mr Maduro held the poll, due on Sunday.
"Who do these imperialists in the United States think they are?" Mr Maduro said on Wednesday. "The government of the world?"
He also called the sanctions "illegal, insolent and unprecedented".
The vote, which Venezuela says will proceed as planned, is to choose the 545 members of a new constituent assembly that would rival the opposition-held National Assembly.
Critics say the president is trying to cement a dictatorship. He argues it is the only way to bring peace back to the divided nation.
The US sanctions also target the head of Venezuela's National Electoral Council, Tibisay Lucena, and former vice president Elias Jaua, who is leading the presidential commissions organising Sunday's vote.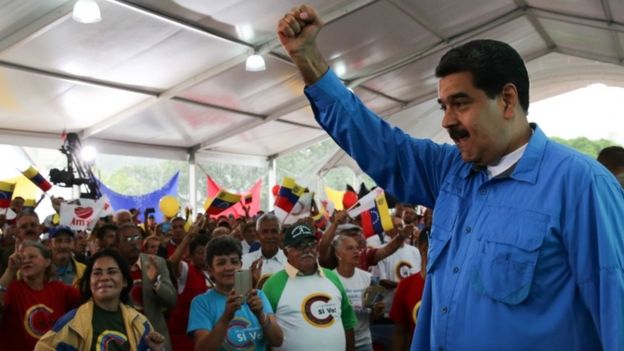 The inclusion of senior figures from the state oil company PDVSA underlines a further threat from Washington that sanctions on Venezuela's oil sector could be next.
Announcing the sanctions, US Treasury Secretary Steven Mnuchin said the US "will not ignore the Maduro regime's ongoing efforts to undermine democracy, freedom, and the rule of law".
"Anyone elected to the National Constituent Assembly should know that their role in undermining democratic processes and institutions in Venezuela could expose them to potential US sanctions," he said.
Mr Maduro has accused the US of stoking unrest against his government, but President Trump said last week that Washington "will not stand by as Venezuela crumbles".
A 48-hour general strike is currently under way in Venezuela, in protest at the planned vote.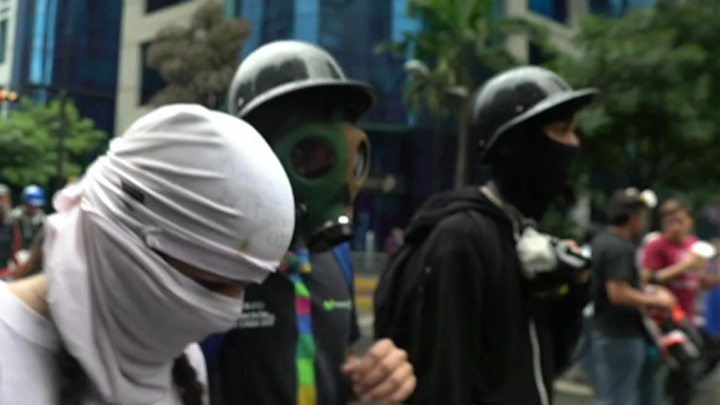 A 30-year-old man was killed during clashes between protesters and security forces in the town of Ejida, in the western state of Merida, authorities said, bringing the death toll in almost four months of protests to 102.
Source: BBC