A clip of a woman being thrown backwards into a concrete barrier after being blasted by a jet engine has gone viral, following the recent death of a woman at the same place.
The video, filmed in 2012, was shot at St Maarten's airport where a 57-year-old woman died earlier this week.
A woman is shown holding onto a fence next to Maho Beach, on the Dutch Caribbean territory island of Sint Maarten. It's right outside Princess Juliana International Airport – lots of tourists do this to experience the blast from the engines.
Credit: YouTube/pablomaron
However, as you can see from the above video, the blast can prove to be too much for some people, with this particular woman being sent flying and hitting her head on a concrete slab. Onlookers are seen rushing to help her.
This comes after a 57-year-old woman died when she was blown over by a jet blast and hit her head at the same place this week.
A local official said that the woman was standing near a fence when she was knocked over by the blast from a departing plane.
The area is covered with danger and warnings signs, but many people still enjoy the rush of adrenaline despite this.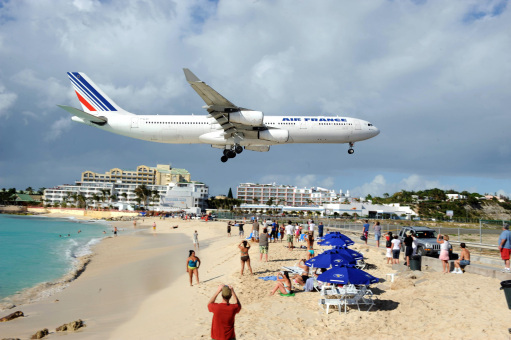 Credit: PA
Roland Brison, director of tourism for the island, which is divided between France and Holland, said the woman was from New Zealand.
He told the New Zealand Herald: "I met with the family of the deceased… and while they recognised that what they did was wrong, through the clearly visible danger signs, they regret that risk they took turned out in the worst possible way.
"At this time I only wish to express my deepest sympathy to the family and loved ones while we continue to investigate what transpired just hours ago."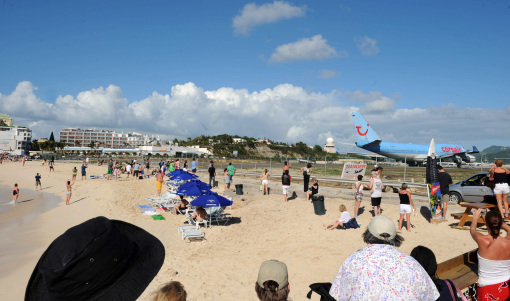 Credit: PA
The paper reported that the woman was holding onto the fence when a Boeing 737 took off for Trinidad on Wednesday.
She and others were blown backwards, causing her to fall and hit her head on the pavement. The beach even has its own webcam with a focused sight on the airport, so if you're not there but still want to experience the thrill of watching a jet plane coming into land, there's a safer way to view it.
Featured Image Credit: YouTube/pablomaron