Though there has been no official suggestion that Sean Spicer, the White House Press Secretary, will be replaced, Kimberly Guilfoyle has implied that she is in talks with the Trump administration about taking over the role.
Though she didn't go into specifics, she told the Bay Area News Group the idea had been "raised by a number of people" as she added: "I think I have a very good relationship with the president. I think I enjoy a very straightforward and authentic, very genuine relationship, one that's built on trust and integrity, and I think that's imperative for success in that position."
Last week, she also spoke generally about the President's press team, and shared her thoughts on what they could be doing better, in what now looks like a big hint to the White House to employ her instead.
"If you want to be successful and do communications with President Trump, you have to be someone who he actually wants to spend a little bit of time with," she said. "You've got to insist on getting in front of POTUS, talk to him, and have like five, six minutes with him before you go out there and take the podium, and otherwise you're driving blind."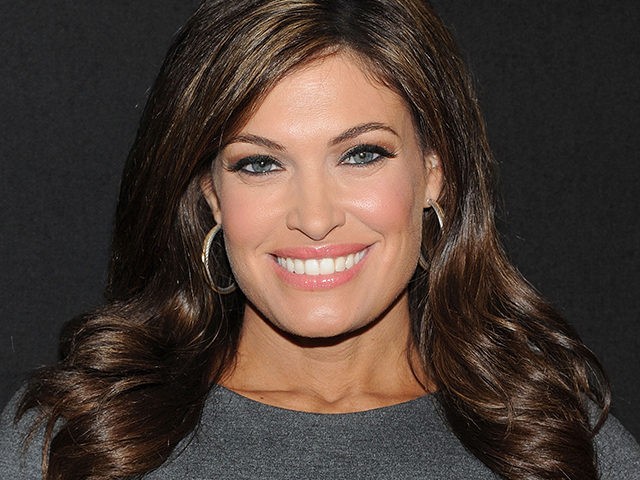 "It has to be somebody with a very close relationship, where there's trust there, there's inherent loyalty, someone who's been there from the beginning," she added.
So, given that Guilfoyle could soon become the new Spicer (far stranger things have already happened in this Presidency), just who is she?
Guilfoyle currently works as one of the co-hosts on Fox News' show 'The Five' – a roundtable discussion on current issues – but has been working for Fox News since 2006.
Her education, however, was in law. The San Francisco-born 48-year-old studied first at the University of California, and then the University of San Francisco's School of Law, where she graduated in 1994. She helped pay for law school by working as a model for swimwear and lingerie companies, including Victoria's Secret. After law school, she worked as a prosecutor in her home town, before working in LA as a Deputy District Attorney.
She entered television in 2004, working on Court TV, as well as working as a legal analyst on Anderson Cooper 360. Since then she has worked mainly in TV, and has written a book – Making the Case: How to be your own best advocate – on her personal life and career.
One of the central points in the book is that Guilfoyle lost her Puerto Rican mother to leukaemia when she was 11 years old. From there her father – who was born in Ireland – encouraged her to be "as resilient and self-empowered as she could be."
The book also looks at her private life. Guilfoyle married Gavin Newsom in 2001, a city supervisor who became mayor of San Francisco during their marriage – making Guilfoyle First Lady of San Francisco. She hosted Prince Charles and Camilla's first official visit to the city. She filed for divorce from Newsom in 2005, and a year later, married Eric Villency, CEO of an interiors company. They had a child together – Ronan Anthony – who is now 12 years old – but separated after three years of marriage and are now divorced.
She once said: "Even though we're divorced, I'm still very close with his family. Even when people don't stay married, they can still be a family together. That's been something that's been really good for developing me as a person. It's been a very positive learning experience. When you go through divorce with children you don't make it about you, make it about that child. Eric and I both want a positive environment for our son."
Personally and professionally, Guilfoyle is well connected. Her son went to school with Trump's granddaughter Kai, and she has known the President and his family for more than a decade. She was also rumoured to be an original candidate for the Press Secretary role before Spicer was chosen.
Even though there is no official vacancy for Spicer's role, it would not be surprising if Guilfoyle created one. In her book, she explains how she made it onto Catherine Crier's TV show during a power outage by walking, and then going to speak to CEO Henry Schlieff. "I walked into the CEO's office, and when [Rikki] Klieman's move came up, I immediately began making the case for myself as her replacement," she said. "Well, he hired me and gave me the job. It's that type of thing. I always say God helps those who help themselves.