Do you ever have those Saturdays when it's lovely and sunny and you might venture into town with your partner, mum or sister in a search for a nice cafe to have a drink and a sandwich, but then, all of sudden, your companion wants to ruin the entire day.
You can walk down any high street with them, but if they walk past a Primark there'll be an overwhelming magnetic force that'll pull them in. They could walk in a straight line and they'll manage to be in the shoe section within 20 seconds.
Image Credit: PA
Once inside Primark, there's no escape. People get lost in there, and in most there's a group of people huddled around a makeshift campsite on the top floor as their partners are in a four-day debate with themselves about what pyjamas to buy.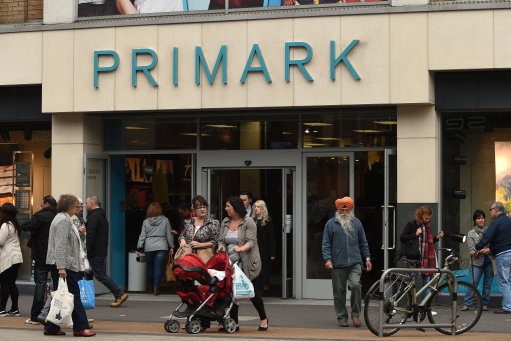 If you look closely you can see the sadness in the eyes of the man who's just left. Credit: PA
In that case, good news for all you hapless weekenders who can't stand a shopping trip with your other half, especially those in Milton Keynes, as the world's largest Primark is opening.
Seventy-five thousand square feet of the market stall that got out of control will open its doors next year in the centre:mk shopping centre. This is going to cause more of a buzz than when Primark started selling Minions gear.
"We are thrilled to announce that Primark will be joining our fantastic selection of fashion and beauty brands at centre:mk next year," Kevin Duffy, centre manager of centre:mk, said.
"Primark is a firm fashion favourite, and so we look forward to attracting more visitors by expanding the centre's fashion retail mix."
https://twitter.com/Faulko1/status/912636243514667008
The store on Oxford Street (East) in London, which is currently the company's flagship branch, has four floors, so if that's anything to go by this new one will be massive.
It'll reportedly stock everything from the Primark range, which is good news for fans, but bad news for those who envisage a 'quick' trip inside.
There are various other good points to the store, other than enabling retail therapy, as it'll create a lot of jobs.
No pictures of the huge Primark are available yet, but it's guaranteed that the untouched, tidy images that'll be shown to us will never be recreated, as most of the time there seems to be more clothes on the floor than on the racks.
Keep your eyes peeled for the store next year.
Featured Image Credit: PA